Now this case really fit the circumstances surrounding Alicia's personal life.
Last week on The Good Wife, I couldn't find even a distant connection. This week - wow. I'm not even sure if the title "Getting Off" was a blatant referral to the case or had some a innocent connotation that I didn't connect.
Putting Alicia on first chair solely because her husband cheated on her, and telling her this as she sat facing Kalinda, was so uncomfortable.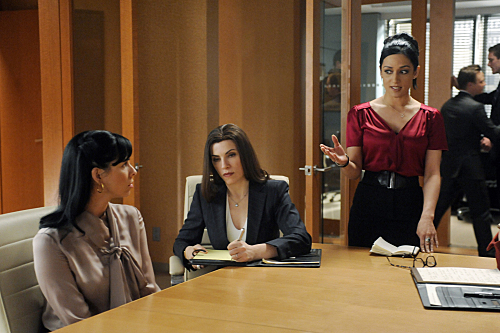 There was no winning side to the week's case, as none of the parties involved gave any reason to feel for them.

They consisted of a woman who cheated and ran a website to help fellow cheaters (because she thought her husband didn't care) and a woman who refused to believe her dead husband was willfully cheating on her, in spite of the fact he had created a profile on an adultery site. Not a lot of intelligence being bandied about in the court room.

Mamie Gummer was back as the hard to swallow Nancy Crozier, opposing counsel.

She obviously studied law and theater simultaneously in college, because she is incapable of representing a client without a flair for the dramatic. At least she provided some ridiculous light moments to an otherwise disturbing civil case.

Everything that was happening with both Alicia and Kalinda had me saying "oh no, oh no" again and again during the show. Every action and reaction seemed to have such dire consequences.

As I suspected would happen, Alicia showed more emotion when she confronted Kalinda than when she did Peter. It was troubling how she closed the door on Kalinda, telling her there was nothing to say after she slept with her husband. Just nothing. To see two of my favorite women in such pain wasn't fun to watch.

I have absolutely no love for Jackie Florrick, but I never imagined her to be evil. Inserting herself into Peter and Alicia's life was bad enough. To use the children was horrific. Kudos to them for shutting her down, but she planted a seed that blossomed anyway.

Kelli Giddish as Sophia, was an interesting choice for Kalinda's potential new boss. I liked her on Chase, so I'm glad she is still getting interesting roles. Alicia told Will the Florricks were separated, but even after giving her notice, she still didn't share her secret with him.

I loved how shaken up Alicia was when she was talking to Stephanie, and realized that although she was married, she knew she had feelings for someone outside of her marriage - Will. It was a telling moment and one I hope will stay with her as she decides who will remain inside her circle.

The final confrontation between Alicia and Kalinda opened a door I never new existed. When did Alicia ask her if she ever slept with Peter? I did not recall that, and it changed my feelings toward Kalinda.

I blamed Peter more than Kalinda in the whole mess, strictly based upon the fact that Peter lied when Alicia asked him if he was hiding anything else. If she asked Kalinda and she lied, as well, then there is little difference between them.

That was a very difficult realization for me. Even worse, Alicia shut her down, and Kalinda closed up. She's lost the emotion she had embraced as Alicia's friend because Alicia wouldn't hear her out.

There was that one quick moment when Alicia said she felt like a fool for thinking Kalinda was really her friend, when all the while Kalinda was only doing it to save herself. Kalinda tried to refute that belief, but it didn't take.

I still believe Alicia will crumble, hear Kalinda out and forgive her. But it will be doubly hard now that Kalinda has put up her shield.

She said she doesn't like to feel bad, and she seems to close out anything that makes her feel that way. I do not like them at odds. Their relationship brings such light to the show that I can hardly imagine what it will be like to watch without their growing intimacy.

What have you thought about Alicia's actions as she dealt with both Peter and Kalinda? I think the best confrontation so far with with Jackie. She doesn't care about their relationship, so it seemed easier for her to throw her thoughts out there with very little emotion. Her apprehension at losing either Peter or Kalinda made those encounters far more intense.

I wonder what the finale will hold, and my fingers are crossed that the three year contract Alan Cumming recently received is indicative of a third season pickup.

Share your thoughts in the comments!

Carissa Pavlica is the managing editor and staff writer for TV Fanatic. Follow her on Twitter and on Google+.

Tags: The Good Wife, Reviews