The 2010-2011 television season has come to a close.
As we prepare for the summer slate of programming ahead and for the new shows to come this fall, TV Fanatic will be taking a look back, grading and evaluating the latest seasons of various dramas and sitcoms.
First up: The Good Wife.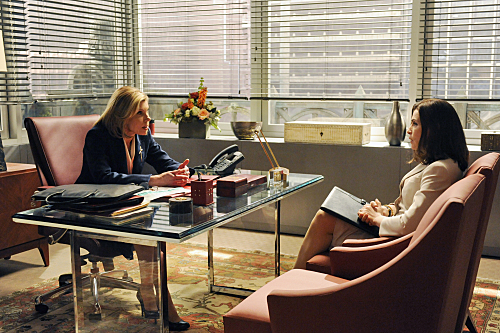 Best character: Alicia. It's incredible to think of how far she's come since the series premiere, when she was unsure how to navigate through the law firm or her sordid personal life. Now? She's on her way to partnership, she's standing her ground with Peter and Kalinda and she's taking the reigns with Will. Julianna Margulies has never been better.

Worst character: Blake Calamar. The character was needed in order to out the Kalinda/Peter affair, but getting to that point wasn't a smooth ride. For a show that prides itself on morally grey individuals, Blake was painted with too one-dimensional of a brush. His dastardly presence felt more too much like a plot device.

Best episode: "Nine Hours." A race against the clock, in order to save a death row inmate, highlighted this tense hour. It juggled various storylines, locations, characters and current event references all within one of the most suspenseful episodes of TV this season.

Best storyline: Peter's campaign. It combined everything. We were treated to a look at Chicago politics within the context of developments on the show, from Peter's libido to an illegal immigration case to the machinations of Eli Gold and the Democratic Committee.

Hopes for 2011-2012: Full-on Wilicia. Enough with the back and forth. It might get messy if these two come out as a couple, but any kind of cover-up will surely be worse in the long run. Also: the return of Gary Cole, fewer quirky judges and more of Cary's awesome smugness.

Overall grade: A. This is network television at its best. The dialogue is sharp, the characters are multi-layered, the mixture of the personal and the professional aspects of Alicia's life blend together in natural, fascinating fashion. There's just the right amount of humor and cultural references, thrown in via off-hand remarks that never slow down the pace. And the performances? I could watch Margulies and Alan Cumming discuss vinyl siding for an hour and be riveted.

Agree? Disagree with this take on the season? Sound off now with your personal report card for The Good Wife!

Matt Richenthal is the Editor in Chief of TV Fanatic. Follow him on Twitter and on Google+.

Tags: The Good Wife, TV Fanatic Report Cards