The Vampire Diaries Reaction: Finale Answers, Season 3 Spoilers
by Matt Richenthal at .
Stefan did what for his brother?!? With whom was Jeremy reunited?!? Where is Klaus now headed?!?
Countless questions are circulating in the heads of Vampire Diaries' viewers after a stunning, dynamic-changing finale. What will it all mean for season three? Without giving too much away, producer Julie Plec offered up a few answers and teases in a pair of interviews this week...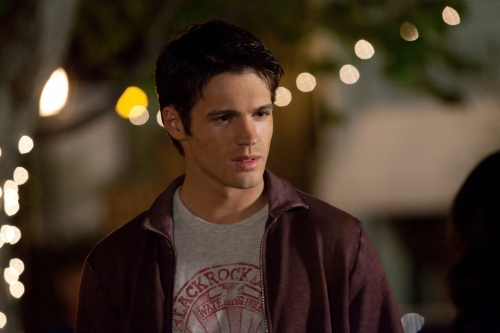 Anna and Vicki are back. WTF?!? I can't say much about where it's going, but it is born out of this idea that Bonnie went against the laws of nature when she brought Jeremy back to life. As we've learned a lot this season, witches, as servants of nature, have a lot to say when you abuse your magic. And they said to her in that scene that there will be consequences. We have now seen the beginning of what those might be.

How will the Elena/Damon bed scene impact season three?

In that moment, Damon needed her forgiveness and her love, and she needed to give it to him. It was very pure for her. There's a lot that happened in that moment, and season 3 is gonna be about exploring what it means to her, what it means to Damon, and certainly what it means to the Damon-Elena-Stefan relationship.

Will Elena and Jeremy move in with Alaric? We made a promise to Matt Davis to take Alaric and give him a good kick in the ass, and really make better use of that character. We wanted to give him a stronger point-of-view and a richer on-screen life, and this is just one of many things that we hope to be able to do.

What is the status of Joseph Morgan and Daniel Gilles? Series regulars in the fall? If we're going to be exploring the history of the originals, I can guarantee that we'll be seeing Daniel Gilles again in the past. And when we see him again in the future is part of the fun we'll have when we start talking about next season.

How dark will Stefan get? Early in the season we decided that would be the path we'd take by the end of the season, so everything we did with him was trying to lay the groundwork for the shift in his journey. We are beyond excited about the opportunities here. For Stefan, it's never as black-and-white as "Good Stefan" and "Bad Stefan"; it's Stefan struggling with this thing that overpowers him so significantly, that no matter what he tries to do to break himself out of it, it still rules him.

And it rules him in a way that it never really ruled Damon. Watching Stefan fight that, and perhaps continue to get overpowered by it, is a story that story could go on for a long time. There's a lot of great opportunity there.

To read the full interviews, visit EW and TV Line. To discuss all that took place on this episode, and all it might mean, just click on the Comments button below!

Matt Richenthal is the Editor in Chief of TV Fanatic. Follow him on Twitter and on Google+.

Tags: The Vampire Diaries, Interviews, Spoilers
From Around the Web