Fans are still talking about the season finale of The Vampire Diaries. And for good reason.
Below, TVF Editor-in-Chief Matt Richenthal is joined by senior staff members Steve Marsi and Eric Hochberger for an in-depth Q&A discussion of "As I Lay Dying." As always, reader feedback is encouraged...
~~~~~~~~~~~~~~~~~~~~~~~~~~~
By turning himself over to Klaus, Stefan acted... Nobly? Stupidly? Desperately? Other?
Matt: Selfishly. He was acting out of guilt, which was sadly ironic because Damon admitted to Elena that he didn't blame Stefan for turning him. But Stefan only made such a drastic decision because his conscience was weighing on him. As a result, numerous innocent people may now die.
Steve: Nobly. In the abstract, perhaps saving Damon and inflicting far greater torment on humanity at large wasn't a good trade-off. But in Stefan's mind all that mattered was his brother. Save him first, suffer with the consequences later. Gotta give him credit for that.
Eric: Desperately. We've all made rash decisions in haste, haven't we? Granted, most of the time they don't result in blood sucking, life taking and girlfriend abandoning. But I once felt pressured at a supermarket check-out line and bought the wrong kind of gum.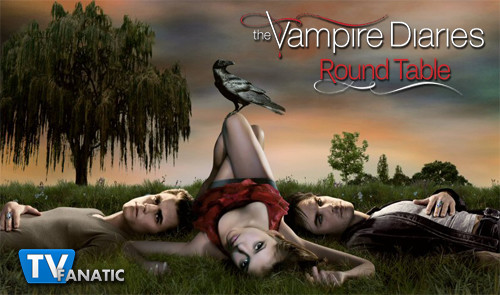 Elena kissed Damon because she.... Felt bad for him? Wanted him to be quiet? Loves him? Other?
Matt: She loves him. But is she in love with him? That's the question that may never get answered. Elena, and viewers, may need to study Damon without his shirt on a few more times to figure it out.

Steve: All or none of the above? The ambiguity of that moment, and their complicated relationship in general, make this question infinitely debatable and delightfully open-ended.

Eric: Pitied him. Damon actually killed Rose in a similar situation, remember. Emotions run high and people take pity on those suffering in any death bed scenario.

Your reaction upon seeing Anna and Vicki was... WTH?!? I've missed them! They must just be visions. What about Lexie?!? Other?Matt

: I literally laughed out loud because it was so ridiculous... and awesome! It would have been enough for the season to have ended on Stefan's bloody, intense face. But this is

The Vampire Diaries

. There's always another twist you never, ever, ever see coming.

Steve: WTH?!? What a great way to finish the season. Delena's kiss and/or Stefan devouring that girl would have been amazing endings, but neither came out of nowhere quite like Jeremy's new "power." He sees the dead now? Will they torment him? Make him avenge their deaths? Where was Jenna? So many fun questions ...

Eric: No offense, Lexie, but I wondered about Jeremy's parents. Will he see them next season? Will they somehow come back to life? How awesome would that possibility be?!? 

Is Elijah actually dead this time?
Matt: Yeah, right. And Katherine is really gone.

Steve: Sure he is. But when all you have to do to bring him back is pull out the dagger, eventually, someone will probably do so a third time.

Eric: No way. We're looking at the Season of the Originals, right? And he's an Original, no? Case closed.

Will we see Katherine again?
Matt: Yeah, right. And Elijah is really dead.

Steve: No way. This was a close one! Too close. She can't risk running into Klaus by showing her face in Mystic Falls. She'll enroll in a vampire witness protection program and never be heard from again.

Eric: I hope so. My one beef with season two was that the show lost direction with Katherine. If we track back all her storylines and manipulations, would there even be a straight path? Why did she come back again? What did she actually want? The major nemesis a season and a half became pretty useless in the long run/big picture.

Matt Richenthal is the Editor in Chief of TV Fanatic. Follow him on Twitter and on Google+.

Tags: The Vampire Diaries, Round Tables