United States of Tara Review: "Chicken 'n' Corn" 05/16/2011
by Matt Richenthal at .
When United States of Tara premiered on Showtime, I never could have predicted that we'd be treated to an episode like "Chicken 'n' Corn."
As I've written about all season, the series has taken a welcome, fascinating turn for the dark and suspenseful, and never was that more evident than all the happenings in the corn maze. Chicken is dead. Bryce is inside Tara. And the look of shock and fear on Hatteras' face at the latter revelation was mirrored on my own.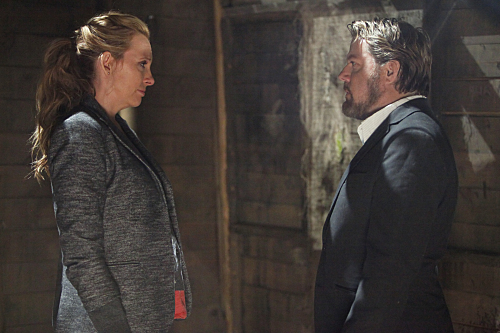 The concept of one alter killing another is a bit vague, but I'm happy to go with it, especially with the concluding tease that Bryce plans on murdering Tara... which would also end his life, I presume, right? Again, it's confusing to try and hash out, so let's just accept what we're seeing and wonder where developments will go from here.

Which altar will fall next? In what fashion? How will Hatteras react to a situation that is clearly over his head? This is a man who claims to not even believe in DID, remember.

While Tara/Bryce dominated the A story, the adventures of Max and Marshall in New York City were equally interesting.

The season has been building to some kind of confrontation between these two, as Marshall almost seems to wish his father would just leave, or change his focus. He's clearly sick of being ignored and having to act way beyond his years. Can't say I blame the guy.

Finally, I've been waiting for something to be revealed about Evan, but perhaps I've been looking at his relationship with Kate all wrong. It's not about him and any secret he may be withholding. It's about her, and whether she's at a place in her life where she can be in a mature, complicated relationship, one that centers around a manic eight-year old.

Great stuff involving all characters, but the addition of Bryce stood above all else on "Chicken 'n' Corn." Were you as joyfully freaked out as I was by this transition? And, seriously, what will happen next?

Matt Richenthal is the Editor in Chief of TV Fanatic. Follow him on Twitter and on Google+.

Tags: United States of Tara, Reviews
From Around the Web