Covert Affairs Review: A Three-Armed Fight
by Dan Forcella at .
Although it wasn't quite "the best episode of the series to date," like Jeffrey Kirkpatrick billed of last week's "Bang and Blame," Tuesday night's "All the Right Friends" was another exciting and entertaining adventure with Annie Walker and company.
There was a lot to like. It all started with Annie being a bad ass chick. Between breaking through the police barricade with the 180 back up to taking out the assassin with a three-armed fight as she was handcuffed to Carlo, Annie certainly earned her time in the field this week.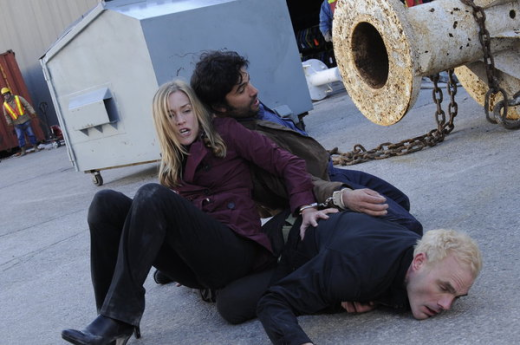 But building off of some of Jeff's analysis from a couple weeks ago, I have to agree that a gun-less Annie is just difficult to take at times. Her constantly having to take down bad guys without a firearm is getting tiresome. Honestly, it just adds to my issues with Annie being put on all of these missions in the first place.  

Is she really one of the best they can find?  Language skills and three-armed fighting aside, there have to be better operatives.

Other than that setback, though, her time with Carlo in Argentina was enjoyable. I loved that she started so apathetic about the mission, but then as soon as people started getting shot, became was all about it. Annie's time with Carlo was fun because he kept trying to escape. In his first major attempt, he tried the "sneak out the bathroom window" trick. That obviously failed.

His second attempted succeeded, thanks to a random cop and those stupid handcuffs. I almost got extremely angry that people in these situations are always so dumb about wanting to escape their protection, but then we learned it was for journalistic integrity. Although I would have stayed with the trained spy that could keep me safe, I can accept that Carlo has different priorities.

Thankfully, he finally gave into Annie and handcuffed himself to her once again, only to realize they needed to be apart to stay alive. Cue the ridiculous problem that occurs only to create an opportunity for a three-armed fight: yes. the handcuff key fell down a drain. You CAN write this stuff people, and the Covert Affairs staff were the ones to do it.

On the other side of the story was Auggie and his possible change of position. It's great to see that character get some weight, and Christopher Gorham some interesting material, at this point in the series. Taking the position in the OCA would be a bump in title and money, but he wouldn't be in Covert Affairs anymore. As that is the title of the show, I don't think there would really be room for two characters on the overt side of things (Arthur being the other one).

As interesting as Jai's obvious jealousy of Auggie was, how Annie will be effected by it is more intriguing to me. Once again, riffing off of my colleague's earlier comments, Auggie and Annie have a really strong connection, which is why the phone call in the final minutes was so important. Auggie will take what Annie has to say about his new opportunity to heart. I'm hoping whatever it is will change his mind. We need Auggie in covert affairs, and we need him to have the opportunity to get in the field.

Overall, "All the Right Friends" kept Covert Affairs on the right track. What did you all think of this week's episode? And how do you feel about Auggie's new opportunity?

Dan Forcella is a TV Fanatic Staff Writer. Follow him on Twitter.

Tags: Covert Affairs, Reviews
From Around the Web