Friday Night Lights Review: "Gut Check"
by Leigh Raines at .
Things are falling apart for the residents of Dillon, Texas. In "Gut Check" everyone had some sort of assessment or evaluation to make.
Kicking things off were the Lions and their locker room fight after their first loss in an undefeated season. Even Slammin' Sammy Meade lamented that the team was in disarray and he'd never seen the stands clear out faster. The knife was pushed in further when the assistant coach told Eric that Vince lost his team. It's true, he has and he doesn't care about fixing it.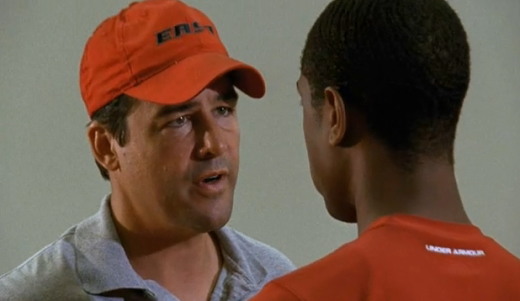 What will it take to deflate the ego of the great Vince Howard? Well it's alienated his team, pissed off his coach, gotten his girlfriend to dump him, and gotten him benched. All Vince had to do to avoid getting benched was be there for his teammate and teach him plays, but even that was too much for Prince Vince. I love how determined Jess is that she would show up to help Luke instead of Vince, even though she had just broken up with Vince. She wants a victory and she's not letting her big headed boyfriend get in the way.

Now I know I'm being harsh on Vince, I'm just disappointed that he let his father get into his head so much. Ornette wasn't a part of his life for a long time for serious reasons and while forgiveness is important, it doesn't mean Vince had to become Ornette's puppet. Luckily Vince turned to the woman who truly has always been a support in his life, his mother. I really adore Vince's mother, she cleaned up her act and has the ability to get through to you without being in your face. If anyone was going to get Vince to right his ways, it was her.

All of this drama wasn't anything new to Coach Taylor, but after a few years of dealing with high school kids and after Tami's accidental assault by Epyck, it seems the Taylors might be ready to move on. Coach said he met with the guys at Shane State as a favor to Street, but I think he was re-assessing whether or not he's in the right place anymore. Tami was also trying her hardest to help students, but in both cases there's only so much you can lead a horse to water.

Another Taylor who was in desperate need of a gut check was Julie. And I truly think she went to the right place to do that; Not that I think running to a boy is the best way to fix your problems, but because for some reason Matt Saracen is so damn wise beyond his years. He didn't judge Julie for her affair, all he cared about was that she wasn't avoiding her life and missing out. How come all 20 year old boys don't think like Saracen?

I'm not going to lie, I totally shed a tear (or four) when Matt stopped Julie's car, kissed her, and told her everything was going to be okay. You know bringing back members of the original crew always tugs at my heartstrings. As much as I like the budding romance between Luke and Becky, it's never gonna be Julie and Saracen. I look forward to seeing what happens with all of these couples. I also look forward to Riglet #2 coming to a theater sometime soon! Another Riggins baby? Whoa mama.

Leigh Raines is a TV Fanatic Staff Writer. Follow her on Twitter.

Tags: Friday Night Lights, Reviews
From Around the Web