The Secret Life of the American Teenager Review: "When One Door Opens"
by Leigh Raines at . Comments
Last week's episode left a very strong impact on many of our viewers. Personally, I worried that the network was going to be inauthentic to the storyline and pretend like everything was hunky dory after what Ben and Adrian experienced. Fortunately, this wasn't the case on "When One Door Opens."
Eight weeks after a truly heartbreaking ordeal, Adrian and Ben were reeling due to the loss of their stillborn daughter, Mercy. While Ben found it more cathartic to get out of the house, talk to friends, work, and go to school, Adrian was still not ready to leave. We saw them in the moment last week and now we saw them after some time had passed, after they'd processed it all.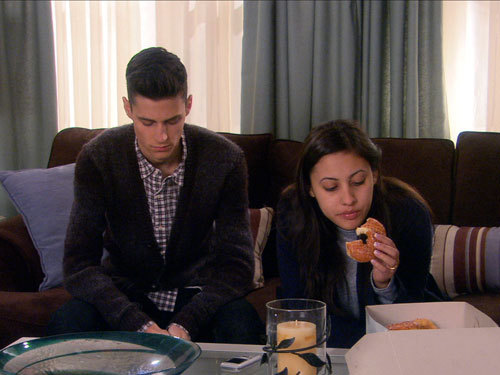 I honestly found Ken and Francia's performances to be even more powerful than I did last Monday. There was something about this episode that felt more fluid to me. There wasn't a big bang promo about an event that lasted five minutes after an installment comprised of of petty gossiping and random nonsense.

For once, I felt that the writers really took us along for the whole ride and devoted a full episode to showcasing real feelings and reactions, not just the constant debate of whether Madison, Lauren, and Grace should sleep with their boyfriends. My feelings that last week didn't devote enough time to the tragedy were remedied here.

I actually wanted to hug some of the characters, particularly Ben when he was crumbling in the hallway with Amy. He's mourning the loss of his daughter, supporting his wife, and trying to hold it all together.

As for Adrian, I really liked the scene when Amy visited and Adrian lamented that she was glad to be having a conversation that felt real. These two have been at odds for years and it's nice to know that in a time of serious need, Amy and Adrian can put aside all of the small stuff they bicker over.

It was interesting to learn more about Tom's girlfriend, Rachel, and her children. Also interesting to learn that Jeff is back in Africa without Kathleen. Something that caught me off guard was learning that Leo was unhappy with Betty. Maybe he reciprocates Camille's feelings after all.

Now, you didn't think I was going to finish up this review without mentioning Amy and Ricky getting it on, right? Finally these two kids are happy. They've been on a bumpy road and I really hope Ricky doesn't slip up if he gets nervous and slip into another girl's bed! I have faith, though. Amy? She just seems way more relaxed, doesn't she?

If there's one thing I know for certain, it's that Ricky was right when he told Amy to get used to the staring. People are going to be watching Amy, Ricky, Ben and Adrian even more closely from now on.

Leigh Raines is a TV Fanatic Staff Writer. Follow her on Twitter.

Tags: The Secret Life of the American Teenager, Reviews