Every so often, you come across a show with an actor who instantly makes you think of three words: Mega. Star. Potential.
This is one of those times.
Patrick J. Adams - who plays the gifted, but hapless Mike Ross on Suits - overflowed with gratitude on a conference call with reporters this week. He discussed his character, along with the thrill of being on a network that has produced the most popular summer entertainment of the last six years. His infectious enthusiasm and energy partly stemmed from the personal connection he's made with his character, Mike.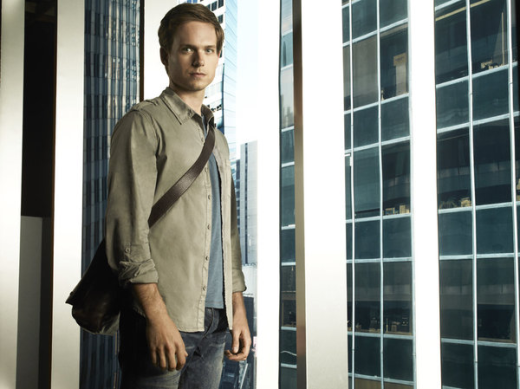 "The thing that inspired me most about Mike was this idea of getting to a place in your life where you finally have to make the decision to go after what you say you've always wanted," Adams said. "In my own life, that's been a really interesting sort of decision, to finally take on some of your fears head on.

"I've come up against what I thought was what I wanted to do and then found some way to sabotage myself or make it not work. For me, the process of making this show has been a real leap forward in the same way it is for Mike Ross."

Preparation for any role is key, so he made the rounds with some of his attorney friends to investigate the life of a first-year associate. It occurred to him, however, that there was more to do than simply research the legal aspects of the show.

"This isn't a procedural. The show... isn't about the lawyers. That plays a part, but that's just the world it's in. It's so character driven. What drew me so much to it was the fact that this was somebody who was tackling his fears. So for my preparation... I started doing that in my own life. I quit smoking, for example, which is something that I'd always wanted to do but, there's a lot of fear and it's difficult, and I finally said this is the time to do it.

"I got my motorcycle license. So in my own life I just sort of lined up the things that were scaring me and I started checking them off the list. Those feelings of fear and the excitement of taking those things on started to really inform the work I was doing on the show."

As with any great series, secrets and bombshells often add to the drama and help draw in the viewers waiting for the bottom to fall out. Adams believes it adds a layer to his character, who is already feeling uncomfortably alien in a terrifying new place.

"If that secret went away suddenly, I could get really cozy in there and just sort of be confident that I'm sort of the best of the best. But no matter how good I am, there's always the threat of losing it all and I think that we are going to…make sure we get a lot of mileage out of that."

Does he foresee any romance in Mike's future?

"I think there's going to be a lot!" Adams laughs. "There's clearly a relationship brewing with Rachel (Meghan Markle) and there's a closeness. At first a friendship, but I think a romance can't be far away there. There's also a relationship with... the girlfriend of my best friend. I think there's sort of a choice to be made along the road. I guess that's all I'll say about that."

Early on, Adams' character is learning the ropes, stumbling along the way and forcing Gabriel Macht's character, Harvey, to step in and rectify. Adams thinks that, for the most part, this is how the series plays best, at least initially.

"Everybody sees somebody win on TV. We all turn on the TV and watch people win and be the best. I think it's kind of refreshing to have this dynamic of two guys given the opportunity to not always have to win.

"Mike is going to be butting up against all sorts of things he doesn't know or understand, and so it's not really about winning or losing, but how he plays the game and how he learns from it so that he doesn't make the same mistake again."

That doesn't mean of course that the roles can't reverse occasionally: "When Harvey learns something from Mike, it's harder for him to admit it. That's part of the... comedy there, which is like even when Mike's right he's wrong to Harvey. But there are definite moments when Mike is helping Harvey out."

Adams feels honored to be part of a show that is paving a new way for USA, given that Suits is distinctly more mature than the network's typical slate of family friendly fare, including a bit of profanity in the pilot. Could this be a way for USA to compete with some of the networks which cater to a more adult audience?

"I think we're honored to be given that kind of leeway from the network. We're so proud... they've supported us fully that it's really at this point about finding a way to fit into the family and at the same time maybe expand it a little bit. If we're lucky enough to have that opportunity, then I know that we'll definitely take the ball and run with it."

Adams has nothing but praise for his fellow cast mates and everyone involved in putting the show together, citing this as a prime reason to tune in.

"From the top on down, from our producers Dave Bartis, Jean Klein, Doug Liman, to the creator Aaron Korsh to Kevin Bray, who directed the pilot and is our producing director, to this incredible cast: Gabriel, Meghan Markle, Gina Torres, Rick Hoffman, Sarah Rafferty - we're just surrounded by people who are so willing to come to work everyday and put their hearts and souls into this thing to try and make it work."

Meanwhile, filming in his hometown of Toronto helps to keep him a focused eye on the bigger picture.

"No matter how hard the days are and how long the hours are, I'm never too far from gratitude. [Being home] is a constant reminder of where I come from and in a way it's really appropriate for the show because, you know, like I said before, if Mike gets too lost in this new world, then he'll lose a part of himself.

"So there's always a part of me that's going to try and stay completely grounded in the past, as well as the present and the future."

Suits premieres June 23 at 10 p.m. on USA, following the season premiere of Burn Notice.

Jeffrey Kirkpatrick is a TV Fanatic Staff Writer. Follow him on Twitter.

Tags: Exclusives, Interviews, Suits, Patrick J. Adams