White Collar Season Premiere Review: The Waiting Game
by Chandel Charles at .
White Collar returned for its third season tonight with an episode aptly titled "On Guard."
The premise centered on the apprehension of one of Neal's old acquaintances, who had a need to move an excessive amount of stolen money without being detected. Enter one of Neal's old aliases, Gary Rydell.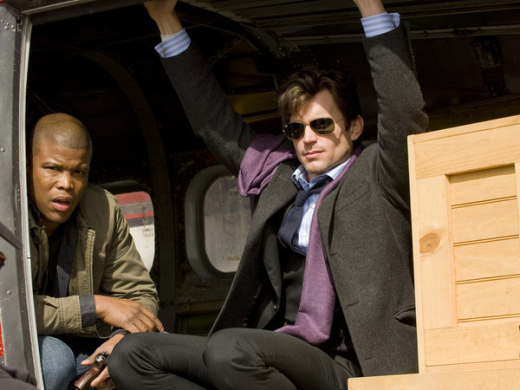 The case had a striking comparison to Neal's situation, planning with Mozzie to relocate the U-boat treasure that, as it turned out, Mozzie was the one responsible for removing before triggering the boat to explode.

It seems Neal and Mozzie were planning to leave for good, toasting to their best and final score.

They had an elaborate plan that included a small plane and a trip out of the country. The episode packed quite the punch in terms of whether or not Neal and Mozzie could manage to fool Peter. But it's becoming clearer and clearer that Peter's hunches about Neal are spot on, and he's having trouble letting go of the con within.

This is particularly important because the cons are what makes Neal the asset he is to Peter, despite the fact it sometimes presents a conflict of interest for Neal.

It's also clear that Neal is going to have some choices to make moving forward about who he is and who he wants to be. He has a job that he excels at, friends who will do anything for him, and a new girlfriend in Sara... but is it enough for Neal? What does he really want?

Without the necessity of finding and gaining revenge on Kate's killer any longer, Neal is searching for a new purpose and having trouble figuring out what that is. In the meantime, it seems he will have to walk the fine line between the two worlds of conning and playing it straight.

I found it interesting and, to some extent, troubling that Neal and Mozzie had to go to such lengths in order to keep Peter from exacting the truth about the Chrysler painting and its presence in the exploded warehouse. I wanted him to succeed, yet knew that the cost was Peter's trust. He had to con the one man who believed in him most.

For this reason, I was encouraged that Peter had a plan going forward for how to potentially expose Neal for the theft.This foreshadows what is sure to be a long game going forward for both parties, where patience and time will be the only true tests of whether or not Neal manages to smuggle away his treasure or Peter manages to catch him in the process.

Regardless, their mutual deceit is sure to make for an interesting season.

Some additional highlights from this premiere included Neal fencing with Lawrence, the variety in the tie repository located in Neal's desk drawer and, of course, the use of June's granddaughter in pursuit of swapping the charred piece of Neal's Chrysler building painting with an authentication friendly replica.

Welcome back, White Collar!

C. Charles is a TV Fanatic Staff Writer. Follow her on Twitter.

Tags: White Collar, Reviews
From Around the Web