Will Thomas Gibson Return to Criminal Minds?
by Steve Marsi at .
Despite the overwhelmingly well-received news that A.J. Cook and Paget Brewster will be back as series regulars next season, Criminal Minds fans may have to reconcile with another major casting shakeup involving one of the show's leads.
With shooting set to begin next month, CBS and Thomas Gibson appear to be at an impasse in negotiations to bring Hotchner back for season seven this fall.
Matthew Gray Gubler (Reid) spoke with E! Online at the Monte Carlo TV Festival this week and weighed in on the situations with Gibson, Brewster and Cook: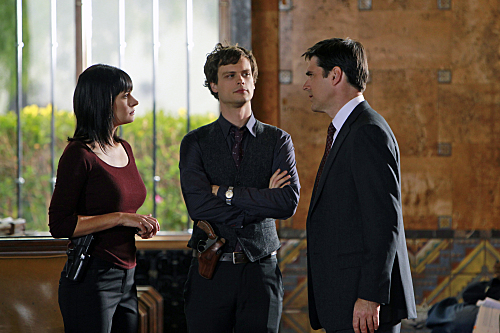 Emily (Brewster), Reid (Gubler) and Hotch (Gibson) on Criminal Minds.

On whether Gibson will be back: "I honestly have no idea, I hope so. I love Thomas, I think Hotch is important to the show, but Hollywood is a strange place."

On who would take over in Hotch's place: "Emily (Brewster), I think, would take over as the chief, or Rossi (Joe Mantegna). We do have a lot of characters."

I don't know what they'd do. It would suck but they'd figure something out."

On the ladies' return

: "We lost Paget Brewster and A.J. Cook for no reason at all, on just on a whim, and that is sort of offensive to me because they're my friends."

"They did a good job, and the fans liked them. At the same time I understand we are all grownups and six years ago we signed contracts that said they could fire us."

"So while I don't like it, I think there are bigger things to worry about in life. Japan, for example had a huge [tsunami] and has a nuclear mess on its hands."

On whether this caused on-set tension: "No tension, but it makes it harder because for six years we've functioned as a unit and then suddenly it's different."

"These are my best friends in life, these actors, so losing them changed everything. And so I'm so glad that the band is back together now."

"I hope that Thomas doesn't leave. I think Rachel [Nichols] will leave. Which is sad, she's a nice girl... it was a tough position she came into but like I said it's a strange situation."

"It's Hollywood. But I know that just because she's not on the show doesn't mean I won't talk to her, she's a friend and I know I'll speak with her on the weekends."

"All I know is we're going to try to keep on maintaining. The spirit on set is very jovial. I think because it's such a dark show we have to find things to laugh about."

Steve Marsi is the Managing Editor of TV Fanatic. Follow him on Google+ or email him here.

Tags: Criminal Minds, Spoilers
From Around the Web