Give the Covert Affairs team credit: each cast member really thinks through his or her role. Case in point:
Christopher Gorham came up with his own hypothetical during my round table discussion with him at Comic-Con this weekend.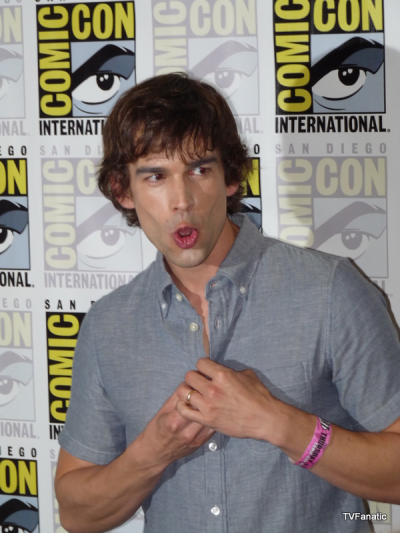 "I just thought of something interesting," he said. "This season we dealt with Auggie getting a promotion and having to decide what to do with his career, and he decided to come back and still mentor Annie. What if a few seasons down the road Annie gets a promotion and decides to leave Auggie?"
Have no worries, Piper Perabo chimed in: "Annie would never leave Auggie... [but] they can go rogue together!"
Will we see more of Auggie in action? Yes, Gorham said, "but not to the degree we saw in the
most recent episode
. There has to be a reason for him to be out in the field like that because he's blind. It's certainly not something we could do every week."
Perabo and Gorham said they enjoyed switching role on ""Half a World Away," citing the installment as a nice change of pace and a chance to keep things fresh. It was also a chance for viewers to see the actor shirtless, of course.
"I've asked for some notice because I really enjoy cake," Gorham joked about those scenes.
Later, Anne Dudek and Sendhil Ramamurthy sat down and I couldn't help but ask if Dudek felt left out of all the fun.
"Danielle's role on the show is to be the 'normal person' and bring levity to the situations," she said, as Sendhil referred to her character on House and added: "It's the polar opposite of playing the cutthroat bitch."
Down the road, producers promised we'll see developments between Annie and Danielle. It will be difficult for the former to continue lying to the latter about her real job. What about Jai's father?

"Despite Jai's best intentions, Henry Wilcox still has a very large influence over his life. He does need him, but he doesn't want to need him. In the upcoming episodes you will see that Henry does really care about Jai," Sendhil said. "As an actor, it's my favorite relationship to play and there's a lot more to come at the end of the summer season and even more in the winter season."

Meanwhile, the show will head to Berlin and Stockholm in the future, as the cast talked about the lack of creature comforts when on the road. There are no motor homes, only restaurants available for a quick costume change.

In closing, I did get to plant a seed: Joan and Athur not only being in the field, but being there together. If you see that down the line, you know who to thank for the idea!

Carissa Pavlica is the managing editor and staff writer for TV Fanatic. Follow her on Twitter and on Google+.

Tags: Covert Affairs, Christopher Gorham, Sendhil Ramamurthy, Interviews, Piper Perabo, Comic-Con, Anne Dudek