As amazing as it is to have Tim Riggins back, this isn't the Riggins that we know and love.
Of course, after spending time in prison for his brother's crime, we can't expect him to be the same. In "The March," we see just how much it's changed him.
It must be difficult for Tim to come home and see Billy leading the life he wants, having a family, and being part of a team. The scene with the Lions on the lawn doing the war chant, was probably the only time he cracked a smile, yet it was bittersweet.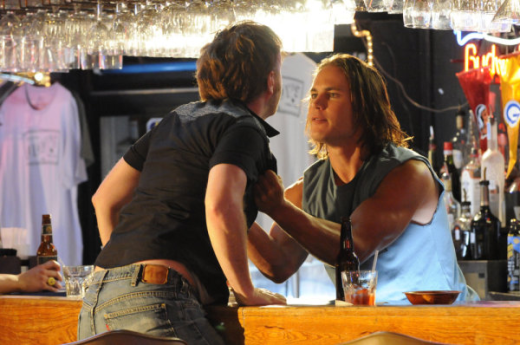 It's also hard to see Billy let Becky spiral down the path of working at The Landing Strip when he begged him to watch over her. It's an odd love between Becky and Tim as she sees him romantically and he sees her as a little sister.

The bottom line is that he cares, something that was very much evident from the throwdown between the Riggins brothers in the parking lot.

There were a lot of confrontations in tonight's episode. The other standout was between Vince and Ornette, who has fallen off the wagon with his drinking, possession of drugs, assaulting Regina, and suspiciously making purchases he can't afford.

It's sad to see a family reconnecting only to be torn apart by the actions of a selfish man.

The upside is that it makes the relationship between Vince and his mother even stronger. Michael B. Jordan is truly the star of Friday Night Lights' final season and one of the strongest actors I've seen to date.

Now that our Lions made it all the way to State, we find out that the district of Dillon has to make major budget cuts and will be eliminating one of the football programs next season.

Will it be the underdogs who are about to take State? Or the the Panthers who have held the reigning power of Dillon for years?

With only one episode left until the finale, tensions are high as everything can change in the blink in the eye. It also looks like Coach will have to deal with the fact that his wife's dreams go beyond being a high school guidance counselor and she's gotten the opportunity of a lifetime.

Leigh Raines is a TV Fanatic Staff Writer. Follow her on Twitter.

Tags: Friday Night Lights, Reviews