Grey Damon Exclusive: What's Ahead on The Nine Lives of Chloe King?
by Carissa Pavlica at .
After referring to his Nine Lives of Cloe King character as "boring" in my last review, Grey Damon proved me wrong on a personal level this week.
Given a name made for stardom by his artistic parents, this young man is well spoken and has his feet steadily on the ground. He knows what's important and doesn't feel the need to compare himself with the rest of young Hollywood.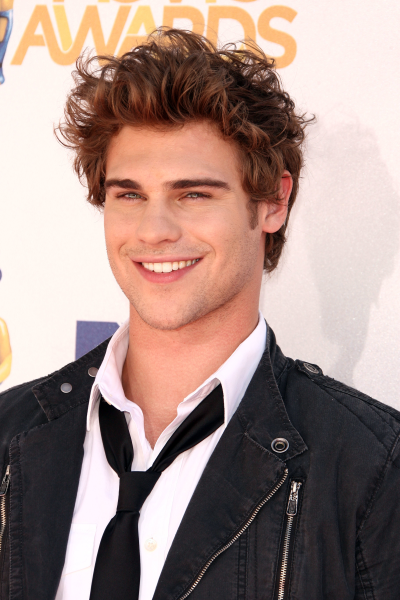 "Other guys my age are looking for the next big action role, like being Shia LeBouf or something, but I am really enjoying the journey I am on and working for ABC Family is an incredible experience," he told me. "I'm looking forward to enjoying the adventure. Everybody always dreams of being in films, but television has become the new film, in a way, by making quality, drawn out movies."

Starring in shows this season didn't seem to phase Damon. Because he filmed his role on

Friday Night Lights

so long ago, he considers his main project to be

The Nine Lives of Chloe King

, on which he plays love interest Brian in a Romeo and Juliet-style storyline.

To make his initial meeting on screen with Skyler Sauels as authentic as possible, he said the two "intentionally didn't spend much time together prior to filming. We wanted to make it as feel as if these two people were having their first encounter."

Today, the cast is tight and supportive of one another, which gives filming a comfortable and seamless feel.

As for Brian and Chloe, will we finally get that kiss in before the season finale? Teased the actor: "I never know from what we've filmed, because I have no say in what scenes make it to production."

You know that ominous looking Mai scratch down the middle of Brain's photo that his dad keeps in his office? We haven't seen the last of it, according to Damon.

"We will examine that, and so much more. I'm never surprised. But I had no idea where the story was taking us, and it's really a lot of places that you will not expect. If they can surprise me, I'm sure the viewers will be surprised as well."

The Nine Lives of Chloe King airs a new episode tomorrow night. Visit TV Fanatic as soon as it concludes for an in-depth review.

Carissa Pavlica is a staff writer for TV Fanatic. Follow her on Twitter and on Google+.

Tags: Exclusives, The Nine Lives of Chloe King, Interviews, Grey Damon
From Around the Web