Even though "The Rolling Stones" gave us a bickering brotherly duo in WITSEC, it felt more serious than most episodes of In Plain Sight.
Perhaps it was due to Mary's pregnancy or, more to the point, how she'll handle the end result. Mary seemed determined to put her baby up for adoption. That is certainly an admirable and responsible choice - but far from an easy one.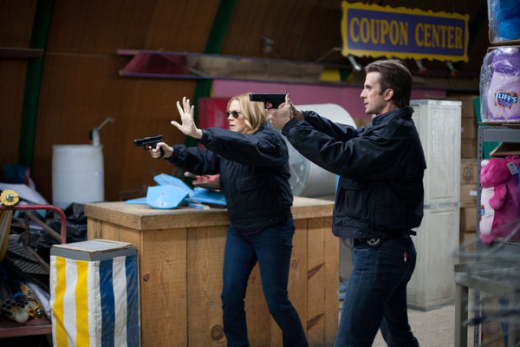 Brandi and Jinx crashing Mary's ultrasound was such a Shannon family moment. They didn't think twice about entering her home and snooping, nevermind showing up at her doctor's appointment. They looked absolutely crestfallen when Mary broke the adoption news to them.
I felt the entire episode was missing the normal snark factor.  In fact, it only garnered a three on a sarcasm scale of 1 to 10. Mary just seemed very introspective and a little subdued, although she still managed to deliver my favorite line of the night.
Mary: Mom, are we seriously going to have this warm and fuzzy catch up in front of all these other weeble wobbles? | permalink
It's a favorite if only because I remember what it was like to be pregnant and "weeble wobble" was an accurate description.  Add on a pair of heals and things got tricky.

I must admit that Brandi and Jinx recovered much better than I expected, giving Mary their full support no matter what her decision. Brandi's offer to have her and Peter adopt the baby was predictable, but I'll be shocked if Mary actually does it. It simply seems too awkward.

Once more, I wished for more Marshall moments in this episode. I liked that he was a bit protective of Mary without going overboard. 

I honestly expected more from their bet but I did love Marshall describing his bout of food poisoning: "For two days I sweated through sweat pants, which is harder than it sounds."

So, do you think Mary will stick to her guns and find her baby an adoptive family? Will she give the baby to her sister and Peter? Or will the baby daddy show up to throw a monkey wrench into all of Mary's plans? I'm excited to find out.

C. Orlando is a TV Fanatic Staff Writer. Follow her on Twitter.

Tags: In Plain Sight, Reviews