Leverage Review: A Break from the Norm
by Rachel H. at .
Nate and the team took a trip back in time to solve the mystery of a lost painting in "The Van Gogh Job."
The episode was a break from the norm, as the squad really didn't have to pull a huge con in order to service the client. Nor were we treated to a typical "whodunit." This was more of a "whereisit."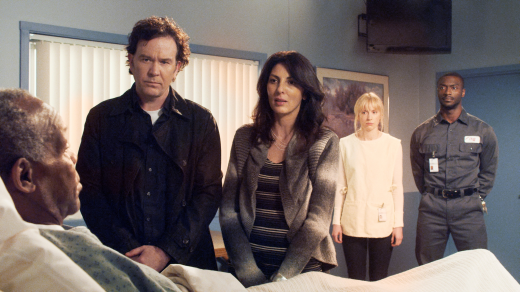 When we first meet Charlie Lawson, we see him as a peaceful old man who's come back home after being away a long time. He seems sincerely sweet and charming, revisiting memories that include his long-ago job from his younger years. Even when a stranger approaches him, accusing Charlie of something he claims he didn't do, we still believe in Danny Glover's character, though we start to worry for him.

Shortly afterwards, we meet another man named Owen, an old colleague of Nate's from his insurance days.  He, too, seems harmless enough, explaining to Nate why he's there seeking help.

And where the story goes from there is beautiful and endearing tale, with just a touch of sadness.

The installment was a refreshing change. Normally, we have an established bad guy that needs to be taken down with some elaborately pieced together con by Nate and his team. Here, we got a simple story that tugged at our hearts.

I love the seemingly complicated, yet easily executed, cons the team pulls off, but this hour proved that sometimes you don't need a whole lot of bells and whistles to figure everything out. Sometimes, all you need to do is listen.

It was fabulous to see Eliot's skills in his former line of work: retrieval. It was also interesting to glance a little into his past in regard to him knowing some of the others seeking the lost painting. They were a first name basis with each other, citing old jobs where their paths crossed.

In addition to the gift of Charlie's life story from childhood to adult, we were blessed with his tale being reenacted by our talented Leverage stars. Aside from their regular weekly personas, we saw them portray people from Charlie's past who were in some ways slightly similar to their characters, but largely very different. Versatile stuff all around.

Standout performances by Aldis Hodge and Beth Riesgraf, especially. Who wasn't moved by their portrayals of the two main characters of Charlie's biographical tale of friendship and true love and their attempt to defy prejudice and society? (Charlie and Dorothy's relationship also seemed to parallel Hardison and Parker's relationship a little.)

Overall, this week was funny, heart-warming, nostalgic and, most importantly, believable. Glover was absolutely tremendous. Charlie spent most of the episode with Parker and those scenes (including the ones with Parker and Hardison together) made me weep happy tears that warmed my soul.

Tags: Leverage, Reviews
From Around the Web