Memphis Beat Exclusive: DJ Qualls on the Future of Davey Sutton, Series
by Matt Richenthal at .
DJ Qualls portrays Officer Davey Sutton on Memphis Beat. But might that one day be Detective Davey Sutton?
The actor hinted at that possibility in an exclusive TV Fanatic interview, saying it would fit in with Sutton's personality, his ability to connect with people, and, heck, he joked: "It would be out of necessity. Our cast is pretty small. [Jason Lee and Sam Hennings] can't do everything."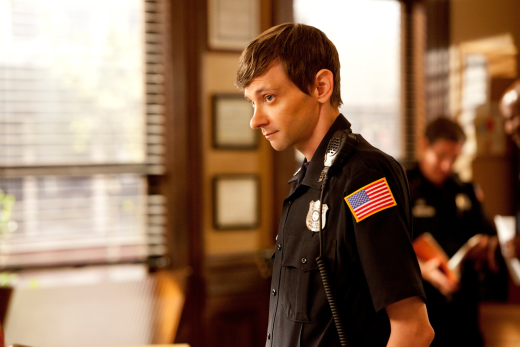 Of course, for Sutton to receive a promotion, TNT would have to pick up Memphis Beat for a third season. That hasn't happened yet. Qualls really hopes it does, as the Nashville native considers himself a "guardian of the south" and the show has given him a unique opportunity in Hollywood:

The chance to speak in his natural accent.

"When I first got to Los Angeles, my IQ went down 20 points in everyone's eyes as soon as I opened my mouth," he said.

Memphis Beat has also forced Qualls to examine his life in other personal ways. On the episode "Flesh and Blood," Sutton served as a caregiver to a baby, keeping her asleep with the use of a copy machine.

The actor said he "was a wreck" throughout that day of shooting, truly growing despondent when he had to say goodbye the seven kids who played the role.

"It even made me think about something more permanent for myself," Qualls sad. "I don't wanna be in my 50s and think about having kids. So many people put their lives on hold for their career in this business."

While Qualls considers his next steps at home and in front of the camera, he couldn't reveal too much about the upcoming season finale. He just hopes it isn't a series finale and teases Sutton "does something cool" in it.

Memphis Beat airs "Identity Crisis" on Tuesday night, August 2. Return to TV Fanatic soon after it concludes for a thorough review.

Matt Richenthal is the Editor in Chief of TV Fanatic. Follow him on Twitter and on Google+.

Tags: Exclusives, Interviews, Memphis Beat
From Around the Web