Luke screwed up, big time, and "In Plain View" had him scrambling to cover his tracks.
It's not nice to sleep with a girl and then not return her phone calls. Did Luke really believe he could tell Jo it was all a mistake and move on? He swore to her that he was happy, but how happy can he be if he's having an afternoon quickie with his ex?!?
Luke's smarter than that, right? Perhaps not.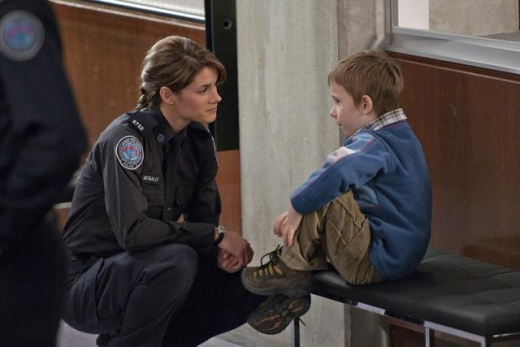 He even followed all of the typical cheater cliches. Between his lies and cover-ups, he showered Andy with romantic gifts to assuage his guilt. Then, when his credit card was found at the hotel, he panicked and moved up the wedding. Oh, what a mess. 

Poor Andy was stuck working with Jo and had no idea what was headed her way. When Jo kicked Andy out of the interrogation, Luke defended the former, saying "She's got her own rhythm." Yup. Luke would know.

Or how about when Jo alluded to Andy being the weakest member of the pack? Talk about passive aggressive, but I had no doubt that that's how Jo viewed her. 

When reality hit, Andy must have felt like she got hit by a ton of bricks AND a mack truck. To her credit, there were no tearful scenes or big fights and she didn't take her hurt and anger out on Jo. Andy simply went home, packed a bag, asked Luke why, and departed.

I loved that she told Luke she left the ring in the lock box where she found it. The horrible realization that Luke never actually gave her the ring or specifically asked her to marry him must have sunk in. Ugh. 

I wonder if she'll ever know that the ring was really meant for Jo. I hope not. No one deserves to feel like second best.

There were no Sam and Andy scenes, but this wasn't about them. It was about the end of Andy and Luke. My guess is we won't be seeing Sam and Andy together this season. She's got to get over this whole debacle and she doesn't need Sam as her rebound guy. But having him around as a friend would be nice.

In actual police matters, Jerry lost his informant. Then he found him, dead. The investigation led to a lonely 17-year old girl who thought her pimp was the love of her life. 

Was anybody upset that the girl smacked Jo in the head to get away? No? I didn't think so. Jo almost seemed to be taking her frustrations with Andy out on Dina.

Jo was right about one thing: Dina was the weak member of the pack. She was so desperate to have somebody love her that she'd willingly go to prison for a guy who wanted her dead. Believing that Andy was similarly weak was where Jo got it wrong.

I found Gail's mom downright creepy. Her entire demeanor felt like finger nails on a blackboard. She was a bully hiding behind a pixie haircut and a sweet voice. That certainly explains a lot about Gail, huh? I wish Gail would have stood up to her mother, but watching Chris do it was the next best thing.

So where do you think Andy goes next? Straight into Sam's arms? Sleeping on Traci's couch? Or does Luke deserve a second chance?

C. Orlando is a TV Fanatic Staff Writer. Follow her on Twitter.

Tags: Rookie Blue, Reviews