The Nine Lives of Chloe King Review: "Girls Night Out"
by Carissa Pavlica at .
Why did Chloe get a smile on her face when she met the new Mai girls? Haven't Valentina, Jasmine and Alek made it clear that everyone is out to get her? Any new acquaintance should be suspect until they prove themselves otherwise. How can the Uniter be so open and still say safe?
Did anyone really think that a simple night of dancing could possibly be just that? One of the sisters (honestly, I couldn't tell them apart) took a human into the bathroom and kissed him to death.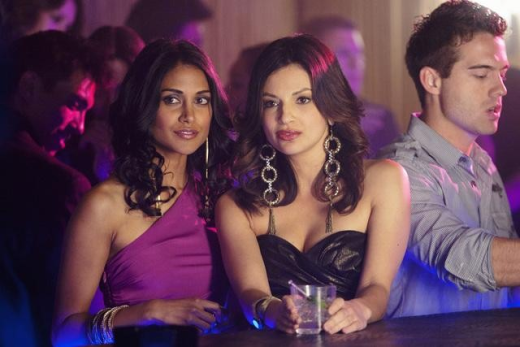 Amazingly he was spread out across three stalls, and not one girl sent out an alarm before they left. I've been to clubs, and I know how often girls to to the restroom. To think that not one hit the stalls all night is just not possible. I hope that last week's episode of reasonable plausible deniability wasn't just a fluke.

There are only so many things I can be expected to believe, and a three stall dead sprawled man is not one of them.

At least we know that the rumor is true; a Mai can kiss a human to death. But it seems like more than a simple kiss is needed to do the trick.

I can't get over the stupidity of Chloe in "Girls Night Out". That she just latched onto the sisters as if they were her new BFFs showed she hasn't learned a thing.

Brian gets more boring every episode, but he'll be sticking around to prove himself to his dad. Prove what, I don't know. At first I had great hope for them as a couple, but there is little about them to enjoy. All they do is have run ins and apologize to each other. Bah.

Where the heck was Alek? It is nice, I guess, to have a female dominated show on the air. Men and boys are definitely hard to come by on The Nine Lives of Chloe King, and there is a lot of girl on girl fight action to enjoy. That must be making somebody happy.

I liked that Amy didn't get upset when Chloe told her she put Paul up to the "night to remember" date. On other shows, the best friend would hold it against her and be mad that Paul couldn't come up with it on his own. The actual interaction was a good show of friendship.

Too bad Paul missed the mark. It did make me laugh to see him laying there, so sure of himself, while Amy practically died of embarrassment.

I am really trying to like this show. In an interview, Skyler Samuels said that by the time they were filming the later episodes it felt like a completely different show. Now I don't know whether that is good news or bad news, considering where we are in the season. What I do know is that with no Valentina and no Alek, I found the episode to be void most of its charm. How about you?

Carissa Pavlica is a staff writer for TV Fanatic. Follow her on Twitter and on Google+.

Tags: The Nine Lives of Chloe King
From Around the Web