True Blood Exclusive: Aaron Perilo Talks Blackburn, Avoiding the True Death
by Matt Richenthal at .
Aaron Perilo wants to tell you a lot about Blackburn, his True Blood character who debuted on "Me and the Devil" as one of Bill's sheriff. Really, he does.
"But I can't say too much without getting the truth death from Alan Ball," the actor told me in a TV Fanatic exclusive.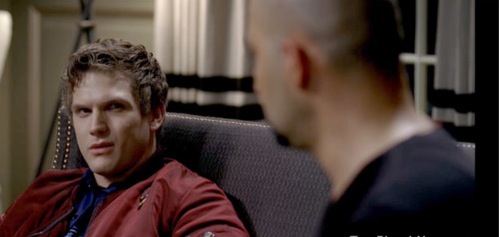 Fair enough. But what can Perilo share?

He'll appear on a total of four episodes and his vampire has been brought to Bon Temps on a "special assignment." It's safe to assume this involves digging up dirt on Marnie and her wiccan pals. But Perilo wouldn't elaborate. Fear of the true death and all.

Perilo was glad to talk about his experience shooting, however. He acted opposite Bill Moyer in his first scene and said the star couldn't have been nicer.

"He's kind of jokey and totally personable," Perilo said. "There were no egos on the set at all... everyone on that show just has so much fun. They don't take anything too seriously."

Up next, Perilo will appear on an episode of Luck, another HBO series. His character on that show works for Dustin Hoffman's main character, an initially intimidating role that was made easy when Hoffman sang Frank Sinatra in between takes.

"He has a great sense of humor," Perilo said of the legendary actor. "He reminds me of my dad."

Matt Richenthal is the Editor in Chief of TV Fanatic. Follow him on Twitter and on Google+.

Tags: True Blood, Exclusives, Interviews
From Around the Web