All hail King Bill.
It's been said many times over the first couple episodes of season four, but it bears repeating after his behavior throughout "If You Love Me, Why Am I Dyin'?: Bill Compton has been more interesting in these three hours than he's been in the previous three seasons combined.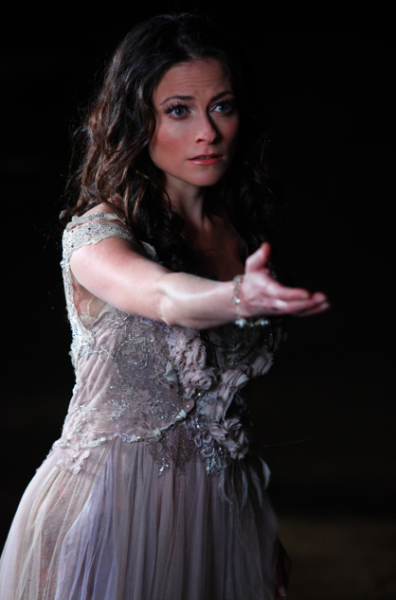 It's been a thrill to watch him lay down the law, as this is one monarch - unlike Sophie-Anne and Russell Edgington - who isn't corrupted by power. Quite the opposite, in fact. He's abiding strictly by it, placing the cause of the American Vampire League above any sympathy he might feel for that poor blood sucker.
The rise of King Bill is placed in contract to the fall of once-mighty Eric.
We asked last week whether Eric is sexier without his swagger and bravado. Reader opinion seems mixed, but Sookie's view is clear: she's more intrigued by this lost soul than ever. And he does still look like Alexander Skarsgård, so I expect these two to be shower hopping together in no time.
It's also worth tossing this quote out there, only because it's such classic True Blood:
Sookie: You killed my fairy godmother!
Eric: Sorry. | permalink
The triumvirate of Bill, Eric and Sookie has led the way so far on season four, but these storylines/characters are worth noting:
We can all agree Jessica did cheat on Hoyt, right? The show has established the sexual element involved in sucking one's blood, leaving Jessica with a dilemma: unleash her inner Pam and satisfy that appetite, or suppress the urge and order a year's worth of Tru Blood. Let's hope messing with Hoyt's mind each week isn't one of the options.
Sam's interactions with a V-addicted Andy are far more exciting than any conversation he has with Tommy or his fellow shape-shifters. I love vampires, I enjoyed the introduction of werewolves, Marnie has the witches off to a good start - but shape-shifters might be one supernatural element too far. I just don't care about any of them.
That line of young Hotshot females awaiting their turn with Jason? Downright eerie. I can't even make a Ryan Kwanten sex joke here.
Marnie reminds me a lot of Doc Ock from Spider-Man 2. We never got a glimpse of her life pre-wiccan, but we're still watching her learn about her powers and discover the affect they can have on other beings. I don't even get the sense that she's evil, just curious. A great new character.
Welcome back, Alcide. Not such a welcome back to Debbie. Or Alcide's shirt.
What did everyone else think?

Matt Richenthal is the Editor in Chief of TV Fanatic. Follow him on Twitter and on Google+.

Tags: True Blood, Reviews
Want more True Blood?
Sign up for our daily newsletter and receive the latest tv news delivered to your inbox for free!
More From TV Fanatic
Pam has one simple question for Eric on this Sunday's new episode of True Blood: Do you wanna die?
On tonight's The Bridge, Marco is made an offer that he initially refuses. Will he agree to go after Fausto?
Things go from bad to worse for Molly on Extant as she tries to escape the prying eyes of the ISEA but chooses the worst place for safety. Read on for a full review.
Mike is on a war path on Graceland... but is he headed in the right direction? Read our review of "Los Malos" now to find out!
---