When Nate Ford makes a promise, you can rest assured he'll keep it, even when his team has nothing to work with and only 108 minutes to do it as depicted in "The Cross My Heart Job."
Okay, let's all agree that the production team took some serious liberties with its representation of airport security. If anyone has traveled recently, that much was clear. A huge deal in an entertaining episode? No. But worth pointing out.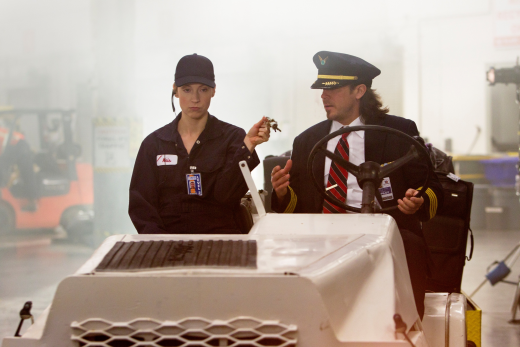 Honestly, I was willing to go with them on anything from the moment Eliot and Parker saved the little girl while Sophie was distracting the waiter in the restaurant. Does anyone else wonder exactly what Sophie packs to travel when she mentioned she didn't have handcuffs "for this job," but always has a pair of heels? 

Nate did an amazing job of keeping himself together, given how close to home this job hit. His warning/threat to Chesney about destroying him and everything he had built or touched showed us exactly how far Nate has come since the pilot and reminded us why he is the mastermind of the team. 

For his part, Chesney was every bit the hard ass James Tolkan is known for playing. I would love to see him back again facing off against Nate after he gets a new heart. Tolkan's skills are still sharp, as it's hard to appear intimidating when you are connected to tubes and lying in bed, but he did it. Honestly, it was fun to see Tolkan on screen again; I haven't seen him in anything for years! 

This is the second episode this season that featured the team working on a timed deadline. However, the difficulty was raised to an 11 as they were working inside an airport with none of their gear. I didn't know how they were going to pull off finding the heart in 108 minutes.

I was surprised that there was no mention of Latimer. It's hard to see him as a significant bad guy or threat when he has barely turned up and is never mentioned. Maybe this year the team isn't really up against a single bad guy. 

Overall, it was a good episode, containing everything we love about Leverage - the team worked like the gears in a clock while the bad guys were foiled and there was some great witty banter along the way!

Next week is the summer finale. Dean Devlin Tweeted that the show would be back around the holidays for a few episodes (last year they aired three in December), so I am expecting it to send us off with something great.

Jim G. is a TV Fanatic Staff Writer. Follow him on Twitter.

Tags: Leverage, Reviews
Want more Leverage?
Sign up for our daily newsletter and receive the latest tv news delivered to your inbox for free!
More From TV Fanatic
On Perception, Daniel and Kate investigate an art heist. Also, Daniel must make a decision about his love life.
Things on Pretty Little Liars looked pretty darn bleak this week as Hanna's friends started to get sick of her but Zack couldn't get enough. Read the review for more insight into the latest installment!
Evan, Paige and Bob confront Russel about his rug theft, while Divya and Jeremiah treat a woman desiring to be a mom. But were those all the surprises the Hamptons had to offer? Read our review of "I Didn't See That Coming" now!
On Chasing Life, Leo makes wishes come true. Elsewhere, Brenna meets her other sister, discovering one more family secret. Read on for more!
---