Project Runway threw us a few more curves this week, as more than one designer went home. "Off The Track" found no one getting along, with both the contestants and judges having heated arguments about who deserved to be there.
But let's start with the first elimination. Cecilia declared herself out.  She was so depressed over her poor performance last week that she only wanted to take her ball and go home.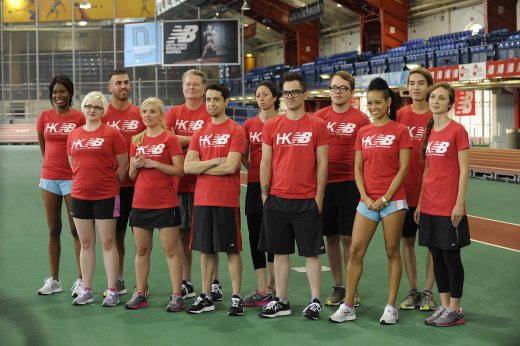 I'm always annoyed when contestants on these shows do that. There were hundreds, if not thousands, of people who would have killed for that spot. If you made it in, you should give it your best until the end.
This week's drama started off at a running track of all places. Cecilia bowed out, Oliver passed out, and Heidi looked really out of place in her heels. If this was her New Balance challenge and she's designed sneakers, why not wear a pair? Especially at the track.
OK, back to the actual challenge. The designers were broken down into four teams. Each team designed three looks to be paired with Heidi's New Balance collection. The winner would have his/her look sold on Amazon.
The designers raced to be team captains and then choose playground style. We ended up with:
Team Josh M. with Anya and Becky
Team Bryce with Kimberly and Danielle
Team Anthony with Laura, and Bert
Team Victor with Oliver and Josh C. who was brought back to replace Cecilia
It was great to see Josh C . back, as he called himself the happiest boy alive. Such a sharp contrast to Cecilia's attitude as she left.

The teams got down to work... but nothing's ever easy on Project Runway. Josh M. treated Becky as nothing more than a worker bee. When she called him on it he got downright nasty. He later apologized but the damage had been done as he'd already called Becky's work dowdy. Once you've told someone "your demographic is like 40 to dead," it's hard to go back.

Even worse was the team dynamic between Anthony, Laura, and Bert. Bert may have had the better look of the three but that man is such an ass it's hard to care. As the judges tore apart Anthony and Laura's looks, Bert snickered and laughed. His glee at someone else's despair was really unattractive.

In a surprise move, we didn't have a top or bottom this week as all four teams had good and bad outfits. Guest judge, model and designer Erin Wasson helped the judges make their decisions.

Bryce pulled it out with a dress that the judges went gaga over. After weeks in the bottom, it was nice to see him design a great outfit.

In the end, the judges gave us two winners. I honestly wasn't thrilled with that. I felt like they should have just picked one but, hey, not my call. Both Viktor and Josh M. won the challenge and their looks will be found on Amazon.

Even choosing the loser got messy. Anthony's outfit was horrible. He wasn't feeling well and Bert totally threw him off his game, but I have to agree that his was the worst outfit. However, Michael and Nina liked all of Anthony's previous outfits and believe in him as a designer.

This lead to an argument of the Project Runway rules. Should the designers overall work be judged or simply the outfit in front of the judges? Despite Heidi's protestations, I believe the judges normally take into consideration a designers overall performance, whether they admit to it or not. It was simply more blatant this week.

And so Anthony was saved as Danielle was sent home. Her love of chiffon was just too much for the judges to bear and when Micheal Kors says "the blouse is like a soufflé that flopped, "you know you're in trouble.

Did you agree with that call or should Anthony have been out?

C. Orlando is a TV Fanatic Staff Writer. Follow her on Twitter.

Tags: Project Runway, Reviews