Suits delivered an intense and important episode for many characters this week.
Louis suffered quite the "Identity Crisis," struggling with Harvey to get the upper hand for a non-profit in financial jeopardy. Meanwhile, Mike sought to repair multiple relationships.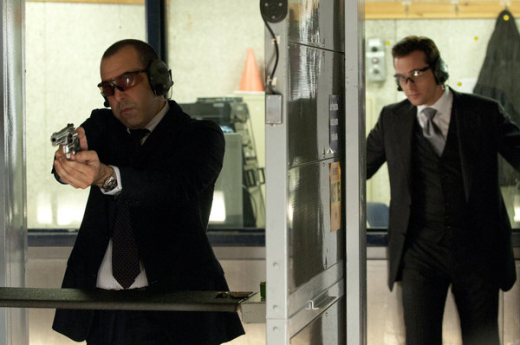 It was a humbling experience to watch Louis so far out of his element. He's clearly a one-man show, lacking the full capacity to work well with others. We watched him fail in every way imaginable, multiple times, here.
When he got reprimanded by Harvey, it was like he suddenly became the screw-up sidekick that couldn't get back into the hero's good graces. Granted, Louis sees himself as an equal, even better than Harvey sometimes, but there was no more appropriate way to describe that scene at the cemetery between the two.
You can tell he inherently doesn't trust others, and I'm starting to see how that distrust in people dictates Louis' interactions in the workplace, not to mention in life.
This made Harvey literally asking for his help not only a redeeming moment for Louis, but a humbling moment for Harvey as well.
Their scene together in the final negotiation on behalf of the non-profit was priceless. Louis was really on his game. You could hear the redemption in his voice. The head nods of triumph only added to his underdeveloped swagger.
I was, however, put off by how quickly his chipper mood, which had him complimenting and planning outtings with every person he passed, changed at the sight of Harvey accepting the appreciation of his client.
The audience knew due credit had been given to Louis moments before. Louis wasn't present at the time, but the deep mistrust he harbors resurfaced with a vengeance in his discussion with Harvey. And Harvey was right to call him on it.
Clearly, the hatchets haven't been completely buried, but perhaps the fault lies with both parties, and even with factors beyond their immediate control.
Elsewhere: Mike's dealing with the hacker yielded some noteworthy moments.
I love that she provided him an "extra layer of protection" by not only getting him a real Harvard Law degree, with honors, but a place in the Harvard Alumni directory. His story is now practically foolproof. Interestingly enough, moments after Mike was granted with this gift, Rachel appeared at his desk.
Maybe there is hope for them after all. But while I'm grateful for Mike's more solidified cover, it also makes it less pertinent for Rachel to be read-in on his secret for fear of complete exposure. This could, and probably will, further complicate things.
Other fun highlights:
June 3, 1997. Enough said.
Mike and Harvey's Godfather discussion.
Louis with a .44 Magnum.
Harvey verbally asking for help.
Learning that Rachel's first time was in Greece (risque, but insightful).
So... is Mike in the clear now that he has papers? Will Harvey and Louis ever work together again?

C. Charles is a TV Fanatic Staff Writer. Follow her on Twitter.

Tags: Suits, Reviews
Want more Suits?
Sign up for our daily newsletter and receive the latest tv news delivered to your inbox for free!
More From TV Fanatic
Which returning summer show is your favorite? Go ahead and vote now, TV Fanatics!
Looking to watch Suits Season 4 Episode 6 online? You can do so here.
On tonight's The Bridge, the search for Eleanor continues. Will she kill again before she's found?
On Extant, Molly reveals her pregnancy to John. However, Sparks' story isn't exactly a plausible explanation.
---