I've realized something. Necessary Roughness works best when Dr. Dani's patients have a direct connection to either her or the Hawks. "
A Wing and a Player" gave us that link and it was much more satisfying than the normal patient of the week.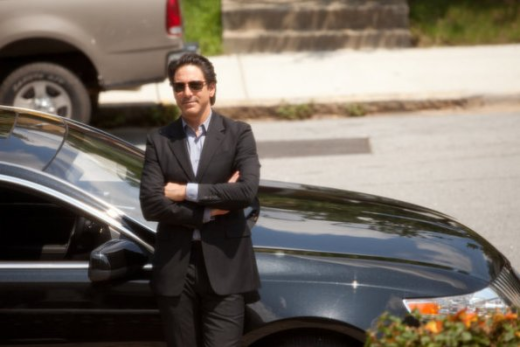 I felt for Kirkman. New York sports fans never forget, so it didn't surprise me that people still vilified him six years later. Of course, standing on a ledge in a bird costume probably wasn't the best way to lie low. I almost wished the team had let him come back as the mascot, but that would have been too sappy and completely unrealistic.
Who else thought that protective Nico was kind of hot? Not only had he done a complete background check on JD, he also read his books and then crashed his date with Dani. Then, he let it slip that he's been married. 
I loved his response when Dani called him on that new piece of information. He simply hadn't told her because she never asked. And then he added:
I never lie, ever. I thought you knew that about me. | permalink
Well, there's another compelling bit of information. Every week, I am more intrigued by Nico. I definitely want more and more.

For once, TK met a smart women and had to step up his game. I'd like to see Vivica come back. Watching someone challenge TK was way more satisfying than his weekly party boy antics.

I loved the look on Matt's face when Vivica shot TK down on the field. I'd guess this doesn't happen often and Matt's quip about getting him ice for the burn was perfect.

Thank goodness JD's gone. Ooh. A month in the Congo. How romantic. What girl wouldn't jump at that and what part of mother with two kids did he not get? Overall, he was pretty quick to end things when he realized she wasn't going to follow him around the world. 

For a change, Dani's kids were kind of funny. Hiding in the pantry while a pigeon flew around their house was something children would do. And TK was kind of sweet when he came to their rescue. I was happy that Dani acknowledged that. It was a nice moment between the two.

So, what did you think of Nico's new interest in Dani and are you as happy as I am that JD was sent packing? With only two more episodes left this season, what do you want to see on Necessary Roughness?

C. Orlando is a TV Fanatic Staff Writer. Follow her on Twitter.

Tags: Necessary Roughness, Reviews