Pan Am Premiere Review: Buckle Up, Adventure Calls!
by Carissa Pavlica at .
Pan Am took us back to the golden age of air travel, when every little girl had "stewardess" on her list of prospective careers and people wore their church clothes for a trip to the airport.
Pilots and stewardesses were role models, and if we didn't know it then, we learned in the premiere that these weren't just any guys and girls. They were college graduates. Smart men and women with adventure sparkling in their eyes, held to strict standards of dress and etiquette. They were exemplary.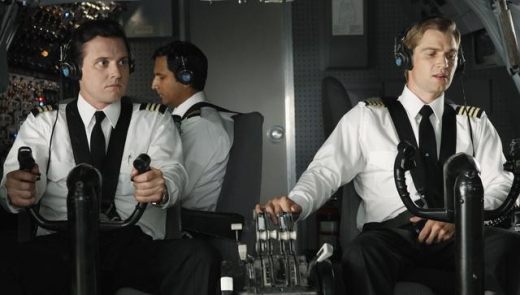 Without a doubt (and with good reason), you can expect comparisons between Pan Am and that other 60s show, The Playboy Club. I'm in the enviable position of reviewing both, but Pan Am reaches farther and aims higher, and that's a good thing. It's smart, sexy, just a bit irreverent. It's filled with beautiful men and women who are instantly identifiable. Our ability to connect with these characters will be what makes this show so compelling, and what may hinder the other from finding its footing.

The story follows the travels of an engaging crew of a newly launched clipper fleet. Newest stewardess Laura unwittingly becomes the face of Pan Am simply because she walked out into the street in uniform, while sister Kate is approached by the CIA because her job, education and linguistic skills are the perfect cover for operatives.

Colette learns the hard way that meeting a man on a flight might be mysterious and flirty, but her dreams are quickly dashed when he takes flight with his wife and son. Beatnik Maggie wants not only to see the world, but change it as well. Dean, just promoted to Captain, is head over heels in love with Bridget, but loses her to the world of espionage. Yes, a career with Pan Am really can take you places.

Where the Playboy bunnies were admired for their lack of clothing and oozing sex, the Pan Am stewardesses were alluring, crisply dressed, intelligent and witty. They were an important part of the Pan Am operation. Helicopters would pick them up to ensure they made their flights. To help launch the seductiveness of the era, Pan Am showcased sweeping, movie-appropriate music of the period to highlight the magnetism of the jet age.

The show does an incredible job of sweeping you into the era. There wasn't a doubt I was no longer in 2011. The same could not be said for The Playboy Club. Pan Am has gone to extreme measures to make every detail just perfect. There were some rather melodramatic moments, however, such as the crew getting involved with the Bay of Pigs.

The catch? While it might not have been the same crew, Pan Am did supply the planes to fly those prisoners to freedom, proving the enormity of Pan Am's own history can provide the show with plenty of story should the writers' need some help. I'm really looking forward to living through the tumultuous sixties with these delightful characters.

I thought the closing scene summed it up perfectly; the four stewardesses walking, Pan Am bags on the crook of their arms, smiles on their faces, Mack the Knife blaring in the foreground, and little girl with pigtails in her hair, imagining her own life turning out just like theirs. This is a show for, and about, dreamers.

Carissa Pavlica is a staff writer for TV Fanatic. Follow her on Twitter and on Google+.

Tags: Pan Am, Reviews
From Around the Web