There is one thing that kept the series premiere of Prime Suspect from descending into mediocrity: Maria Bello.
Never before have I watched someone who wanted something so badly. Bello, as Jane Timoney, is able to keep up with the boys and beat them at their own game of being a detective in New York City.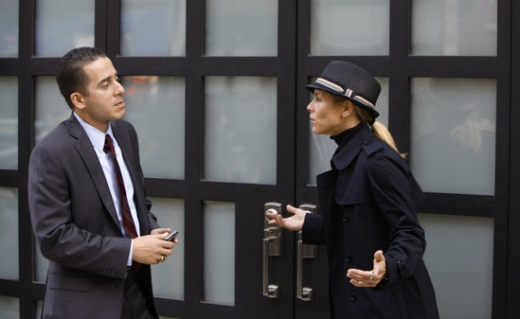 While the "Beef Trust" is content to sit around, only going after the suspects that seem guilty and spending the rest of their time drinking and keeping Jane off lead detective work, Jane is dedicated to being an actual detective, even after one of their own died of a heart attack.

And that is what keeps

Prime Suspect

from being just another show about women being held down in a traditionally male-dominated field.

The Beef Trust doesn't have a problem with women coming in and being detectives, they have a problem with Jane, specifically because they believe she slept her way to the top.

What sets Timoney apart from most procedural heroines - and something that will probably help her eventually win over the force and audiences alike - is she really does feel like one of the guys. There's no gung-ho, overly earnest optimism here. Jane is a dark character, filled with bright spots of dark humor and crudeness. She is interested in doing her job well and going over every angle, not closing the case as quickly as possible and getting a beer with the fellas after work.

Another trait that sets Jane apart is how her personality doesn't flip a switch when she gets home. This isn't someone who suddenly become the stereotypical happy homemaker when she sets foot in her house or is around children.

Jane doesn't have a problem checking into her boyfriend's ex and her new husband's past as leverage to get his son to spend some nights with them, nor does she have a problem showing a traumatized child her gun if it means more information about her case.

The final act perfectly encapsulates who Jane is. No matter what the cost or consequence... she is going to do her job, even if that means chasing a suspect and getting into an absolutely ruthless, dirty fight. Nothing knocks her down for long and no one will stand in her way, even if it means getting tackled and punched in the face.

While the episode's case of the week felt rather generic, and the other characters need some definite story arcs besides being barriers to Jane, one thing is for certain: Maria Bello elevates Prime Suspect to must-watch status.

Nick McHatton is a TV Fanatic Staff Writer. Follow him on Twitter.

Tags: Prime Suspect, Reviews
Want more Prime Suspect?
Sign up for our daily newsletter and receive the latest tv news delivered to your inbox for free!
More From TV Fanatic
On Murder in the First, Cindy's husband ends up dead and that forces the police into overdrive. Will his confession hold up?
On tonight's Under the Dome, Rebecca wants to release a deadly virus into the population. Will she do it? And how many would die?
Fritz is offered a new job with the LAPD on this episode of Major Crimes. Read on for more.
OnMistresses, Joss tries to stop Harry from going back to Australia, Karen faces a dilemma involving her lover and a patient, April has a crisis of conscience - and Savi says goodbye to her home.
---