What are the odds that Brenda would be on trial for the death of one suspect, while another took his own life in her interrogation room? "Fresh Pursuit" examined just that scenario.
With the slow motion camera action, I was certain the suspect would get Brenda instead, and I was quite pleased when she came out unharmed.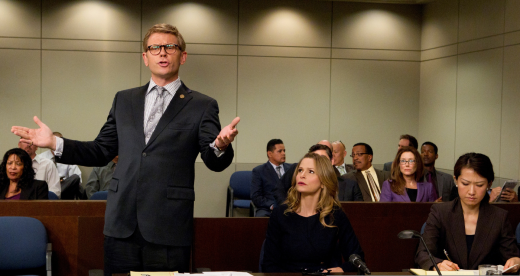 My first thought was that the mole we've all been expecting to be unearthed was going to great lengths to make sure he or she was not found out. Certainly someone could not want Brenda gone so much that they would risk the lives of everyone in the department... right?



As it turned out, I watched the entire episode not looking for clues in the case itself, but on the lookout for something in the overarching subplot of the leak in Major Crimes. Was someone going to get shot, would the mole be revealed? It was beyond frustrating.

Along those lines, when Gabriel let the "big fish" suspect leave his sight, I thought I would scream. I knew Brenda would be waiting outside at another exit, but when you suspect everyone it gets unnerving. Seeing Brenda pointing a gun at the suspect in her bare feet was a real kick.

And then, the hammer to the head: The opposing attorney, Mr. Goldman, lost the case against her in the state of California... but took it one step further and filed a federal one. Who in the Hell was the mole?!? As Brenda stood there, shaking like a leaf, I realized the case was at a much higher level than I had dared to believe. When Brenda asked if he had a personal vendetta, I had to accept that if not him, then someone surely did. 

And that was it. The end. The summer finale. It concluded with a look of sheer terror on Brenda's face, as she, and we, tried to process what Goldman was doing. With a sense of disbelief and despair, we're left to wonder if it's their intent to try to ruin every good thing that Brenda spent five years creating. Her reputation, that of the Major Crimes division, and our relationship with them as viewers are all in jeopardy. 

I felt like I was standing on a ladder and someone kicked it out from under me. I now have months of waiting to find out what, or who, is really behind this ultra-aggressive lawsuit. My only coherent guess is Pope, and the thought of him being behind such pain is too grievous to imagine. 

What are your thoughts? Who is doing this to Brenda and why? Was there a particular case during the run of The Closer that would lead someone to have such an enormous grudge? Meet us back here this winter to find out.

Carissa Pavlica is a staff writer for TV Fanatic. Follow her on Twitter and on Google+.

Tags: The Closer, Reviews
Want more The Closer?
Sign up for our daily newsletter and receive the latest tv news delivered to your inbox for free!
More From TV Fanatic
This week on The Last Ship, Danny gets sick and the crew begins to panic. Is it the virus? Meanwhile, Rachel's vaccine trials continue to fail.
Who was able to successfully problem solve on The Rachael Ray Show this week? Find out now in our review of Food Network Star.
The Masons are reunited on Falling Skies Season 4 Episode 6. Will it be a happy or contentious reunion?
What took place on The Real Housewives of New Jersey Review this week? Read our rundown to find out!
---