Did anyone actually care about the murder case this week? I know I didn't. "Little Red Book" was all about the shifting relationships of these characters and where they're headed next.
The world is still off its axis for our CBI crew. Jane is allowed back as a consultant, but his team is disbanded and Lisbon is facing termination. Bertram has to blame someone for the Red John debacle and he's putting it all on Teresa's tiny shoulders.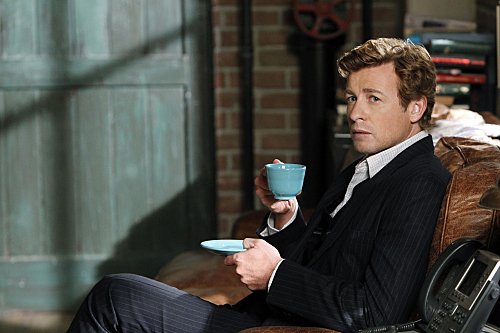 When Patrick visits Teresa at her home, she's handling it well. As usual she's strong and downright stoic. She says she'll be fine. Of course she will, because Jane is determined to save her.

In a secret meeting, Jane implores Cho, Rigsby, and Grace to help with his plan to save Lisbon. The only one to balk is Rigsby. He's always been the weasel of the group. He threw Cho under the bus last season in order to save himself and now he doesn't want to risk his job to help Lisbon. I'm glad he got stuck with the security gig. I used to root for the Rigsby/Grace pairing but now that I think about it, she deserves better.

Speaking of Grace, I'm wondering how bad things will get once she blows off her therapy. There's going to be emotional consequences to killing your traitorous fiance. I'm not sure Grace can handle the fall out on her own.

When Jane hypnotizes his new team member, I have to admit that I felt my eyes closing, too. Who knew that Patrick Jane's powers could be felt through the TV screen? The man is that good. Of course, I was a little tired to begin with.

I'm so happy to see LaRoche back and so disappointed to hear that he's leaving major crimes. That man is an enigma. I've never seen a character who can go from creepy to cuddly teddy bear so quickly. One moment he's looking through Ray as though he can see to his soul... the next he's got Teresa in a heartfelt bear hug. The man is full of surprises and I sincerely hope we'll see more of him this season.

And it's nice to see that it's not only Jane trying to help Lisbon. She asks LaRoche to help get her in to speak with Sally Carter because she wants to give Jane some closure.

The one thing that surprises me is the Lisbon basically congratulates Jane on killing Red John. She's always been so against Jane seeking his own justice. Is she being sarcastic here? Does it not matter so much now that it's done and she can't change it? Or does she just want Jane to move on?

So, is Timothy Carter Red John? Is the psychopath really dead and his last hurrah is to leave enough doubt to drive Patrick Jane insane? Or is his blind lover right, if her lover truly was Red John? Is the man on the slab simply Timothy Carter and Red John still lurks in wait for his next victim?

This is why I love the Red John case. It twists and turns in so many directions I'm never sure which way is up. Simply the idea of Red John being out there should make for another great season of The Mentalist. For a look ahead, meanwhile, check out the official CBS promo for next Thursday's episode!


C. Orlando is a TV Fanatic Staff Writer. Follow her on Twitter.

Tags: The Mentalist, Reviews
Want more The Mentalist?
Sign up for our daily newsletter and receive the latest tv news delivered to your inbox for free!
More From TV Fanatic
It's select ensemble vs. elite in a dance rematch this week on Dance Moms. Who came home with the victory? Read on to find out!
On tonight's Tyrant, Jamal and the Sheik meet for negotiations. Will they come to an agreement?
It's time to reunite on The Real Housewives of New York City. Read all about this special episode now.
Who can be trusted? On tonight's Covert Affairs, it's clear that it's important to trust others, but also a huge gamble.
---