The Playboy Club Exclusive: Jenna Dewan Previews Series, Responds to Criticism
by Matt Richenthal at .
Jenna Dewan plays Janie on The Playboy Club, which premieres tonight at 10 p.m., and describes her character as "free-spirited, fun, the life of the party" and someone who "definitely loves being a Bunny."
But many critics out there don't love that NBC is airing this new drama. Gloria Steinem has called for a boycott of the series, while an NBC affiliate in Salt Lake City won't run it. How does Dewan feel about such an icy reception?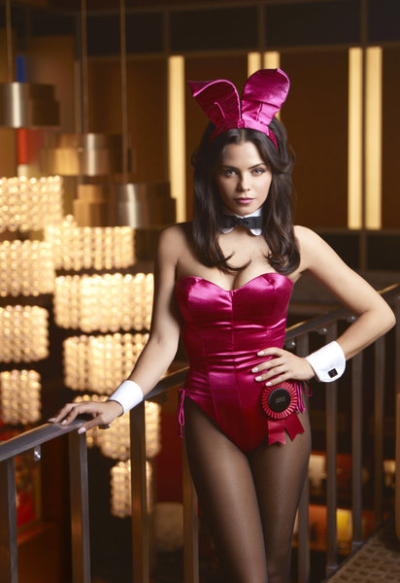 "People are overreacting," she told me last week. "Most of the feminists giving us problems haven't even seen the show. I would like for them to actually watch and then state their opinion at least. I'm proud of how we portray women. They're not weak, they're not victimized. We're in control of ourselves and of the situation at all times."

That situation, of course, involves Janie and other young women working at the legendary Chicago club in the 1960s, while Eddie Cibrian stars as Nick Dalton, an attorney with a key to the establishment.

Dewan obviously acknowledges the skimpy outfits worn by the Bunnies, but says of their occupation: "To have chosen to do this job says a lot about these women and their ambitious nature at the time. They are choosing to make money and to go to college. They aren't content to just stay at home."

What actually brings Janie to the club? Dewan won't say exactly, but teases a "past she's running away from."

"We'll learn more about it in the first couple of episodes," the actress adds. "It could actually threaten the club."

Does Dewan feel threatened by Pan Am, another new drama set in the same decade? No. She refuses to trash talk any of that ABC show's cast members, simply laughing and saying "there's enough of the 60s to go around!"

The Playboy Club premieres tonight on NBC. Visit TV Fanatic as soon as the pilot concludes for a thorough review.

Matt Richenthal is the Editor in Chief of TV Fanatic. Follow him on Twitter and on Google+.

Tags: Exclusives, Interviews, The Playboy Club
From Around the Web