America's Next Top Model Review: Making Like MJ
by Kate Moon at .
Well, it's about time!Tonight's episode, "LaToya Jackson," gave us some good old-fashioned ANTM meltdowns and the sort of drama that got me hooked on the show in the first place.
For some unknown reason, Shannon the Christian felt attacked by Bianca the Villain, setting the stage for a huge fight that somehow ended up involving the whole house.In the middle of it all was, of course, Lisa the Clown.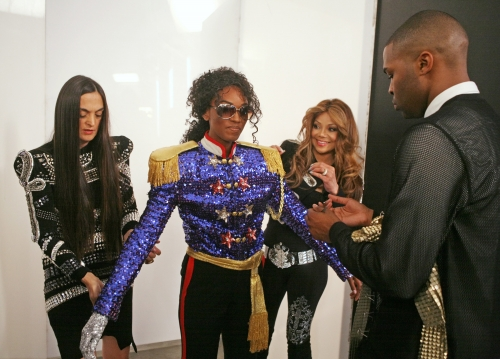 Bianca's supreme confidence coupled with the other girls aligning against her put her at odds with the judges and everyone but Bre.Yes, Bianca, you are 6 ft tall, 120 lbs. and beautiful.Now make up your mind on whether you want to be on ANTM because you can't seem to stop whining! 

The girls modeled for the Kardashian Kollection for their runway on a carousel challenge.Sisters Kim, Khloe, and Kourtney all showed up to support the models and in a gesture of intense generosity, gifted the winners with... clothes from their Sears kollection.For a trio that pulls in millions of dollars, that seems like a small gesture, but you could tell the girls were instructed to look excited.

The photoshoot was a tribute to the late King of Pop, Michael Jackson.The contestants all portrayed the cultural icon by modeling some of his most famous outfits and eras.The guest judge was his very sweet sister, LaToya Jackson, who not only encouraged the girls, but also gave them modeling tips.

Thank God the girls weren't in blackface because ANTM is notorious for getting backlash for changing the color of the models's faces.All of the girls were surprisingly good at channeling Jackson's moves and expressions. Of course, it helped that they were wearing authentic Jackson pieces with his signature waves.

Laura, Dominique, and Bre posed especially well, while Lisa pulled off some of Jackson's signature dance gyrations and Allison got a Jackson 5 pose tailor-made for her doll face.

At judging, Andre Leon Talley was shell-shocked by Lisa's dreck outfit, although Tyra defended it, calling it Lisa's "signature style."He was similarly dumbfounded by her inadvertent signature splits pose.It did not bode well for Lisa.

In a move that seemed like a bigger gesture (because Tyra is a control freak) than it actually was, LaToya was allowed to choose top photo and which girl should go home.She loved Laura's energy and vibe, giving the sweet Southern girl her first call-out of the season.

Lisa and Angelea ended up in the bottom, but in a moving speech, La Toya explained that all the girls channeled her brother's spirit brilliantly and no one should go home that week.So there you have it, the models now have Michael Jackson to thank for hanging on for another week! A bit weird, no?

What did you think of the Michael Jackson tribute? While it could have been corny, I thought LaToya's lovely presence lended a nice touch to the episode. 

Tags: America's Next Top Model, Reviews
From Around the Web