Boardwalk Empire Review: "A Dangerous Maid"
by Teresa Lopez at .
Political coups, arrests, shoot-outs... and it all comes to a head over a lobster. 
Sitting through the first thirty minutes of "A Dangerous Maid," I was afraid Boardwalk Empire may have stalled too early in the season. Nucky gave himself over to troubled, lonely musings while around him everything he built fell apart. And then we had that wonderful confrontation at his hotel restaurant.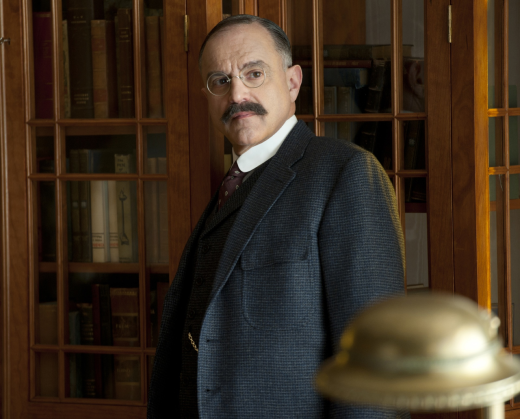 It was pretty amusing that the final straw for Nucky was watching the Commodore feast on the very last lobster (which Margaret wanted to order). When he strode over purposefully to his table, things weren't so funny anymore, except when Nucky tossed that lobster right off the table. Nucky finally stood up for himself, putting both Jimmy and the Commodore on notice. The moment really irked Jimmy, especially as he seems to be having some doubts over which of his fathers is the lesser of two evils.

I liked that the episode slowly built to this dramatic conclusion, making it feel all the more shocking and dramatic. For awhile, Nucky's only had Margaret and Damien on his side... and Eddie, of course. Now, with Owen working as his soldier (an apt Jimmy-replacement), he's really positioning himself to make this quiet political coup a little bit dirtier and lot more dangerous. Owen didn't wait long start supporting his new boss and he seems like he'll be a fierce opponent for the Commodore and company.

I'm interested in how Jimmy will fare with this new upheaval. I see a Jimmy and Owen clash coming soon, but Jimmy already looks like he's doubting the man his mother used to call "the lech." Gillian's forgiven the Commodore for her own reasons (opportunity and money most likely) and she encourages Jimmy to do the same. But, Jimmy smartly asks, why not forgive Nucky then? His sins seem more forgivable and yet Jimmy feels more betrayed by Nucky than the Commodore.

Tonight, we also found out about the "arrangement" between Lucy and Van Alden. I've been curious about this since the pilot and while some of my questions were answered, their odd dynamic created even more questions. So he pays her to stay in the apartment and away from people, but are they still romantically linked? He seemed concerned that she didn't think he was "fun," so he bought her a victrola (and in the nick to time, too!). However, we haven't seen them be affectionate with each other at all.

Is he paying for the baby? Will he take it with him since he and his wife are unable to have one of their own? Whatever his plans may have been, I'm sure things won't work out so neatly when that baby is finally born.

Margaret's attempts to reconnect with her past had such a sad ending. Her family thinks of her as dead and it doesn't seem likely that she'll ever have a happy reunion with them in the future. I doubt they'd be please with her current situation.

Also, it was good to see Capone and Jimmy Irish back together. I wonder if they'll ever be working together in the future. Jimmy may need the backup, especially if the Nucky situation gets out of hand.

Were you happy to see Nucky finally fighting back?

Tags: Boardwalk Empire, Reviews
From Around the Web