Was "Witch's Lament" a trick or treat?
For me, it fell somewhere in between. While I had hoped that every episode in this final season would be epic, this installment was a reminder that Desperate Housewives just needs to go out in style. I'll admit that I'll miss the residents of Wisteria Lane terribly, but it's just time for the end of this iconic show.
Don't get me wrong. There were several funny moments and I appreciated the Halloween theme, but I still feel like the main storyline has been dragged out far too long. Things finally changed slightly tonight, though, when Alejandro's dead body was.... MISSING!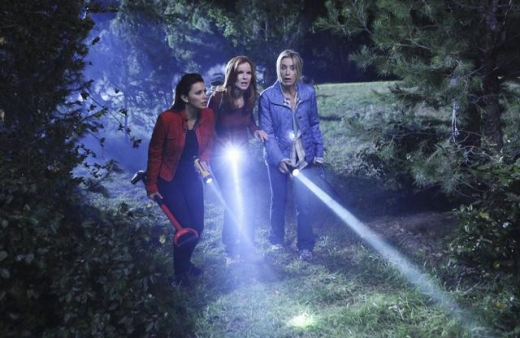 Let's hope that the storyline continues to move forward, and we aren't given only slight teasers like in the previous five episodes. Who do you think was chasing the girls? And where the heck is Alejandro's body?!?

(On another note: With flashlights and shovels in hand, the ladies being chased by a mysterious man on Halloween night felt a little too familiar and reminded me of Pretty Little Liars.)

Meanwhile, Susan's internship experience turned out to be more like a babysitting gig. I've got to say I really liked her storyline with Andre. Although Andre is a total jerk, there's just something intriguing about him. By the way, I loved Susan's Glinda the Good Witch costume and seeing MJ again. How cute was their mother-son robot conversation? Susan's always been such a great parent. 

It was certainly nice to see Renee finally getting a story arc of her own with Ben. The effects of her "woman love fluid" was totally freaky, though, and I completely understood why those trick-or-treaters were scared.

Not to be outdone by Tom's new girlfriend, Lynette slightly over exaggerated her sewing skills and ended up having to order Penny's kitten costume. Unfortunately, it was a bit disastrous and definitely inappropriate for Penny's age. The looks on Jane's, Tom's and even Lynette's face were absolutely hilarious.

I'm biting the bullet and admitting that I kind of like Jane. I do still hope that Tom and Lynette eventually find their way back together by the series end, but Jane doesn't seem all too bad... yet. I mean, she did cover up for Lynette and even tried to be cordial. Then again, I do understand why Lynette asked her to back off in pursuing Tom. What would you like to see happen?  

My favorite scene and probably the funniest was when Bree and Gaby were frog hunting. Like Gaby, I definitely would have had trouble staying calm throughout the whole gross frog ordeal. Honestly, I am deathly afraid of bugs, too, so I know I would have been screaming just like her. Also, how is it that Gaby always looks so fabulous? It really doesn't matter if she's in the woods or in a swamp. The girl always looks seamlessly perfect.

Carlos continued to slip and sought alcohol for comfort after seeing Alejandro at his doorstep. Creepy! I hope that he decides to return to AA, or at least talks to Gaby about what's going on with him. His downward spiral is beginning to look tragic.

"Witch's Lament" was hilarious at times, a fun and spooky Halloween-themed hour. I'm so ready, however, to find out where Alejandro's body is and what's going to happen next. Let's move on.

Tags: Desperate Housewives, Reviews
Want more Desperate Housewives?
Sign up for our daily newsletter and receive the latest tv news delivered to your inbox for free!
More From TV Fanatic
This week on The Last Ship, Danny gets sick and the crew begins to panic. Is it the virus? Meanwhile, Rachel's vaccine trials continue to fail.
Who was able to successfully problem solve on The Rachael Ray Show this week? Find out now in our review of Food Network Star.
The Masons are reunited on Falling Skies Season 4 Episode 6. Will it be a happy or contentious reunion?
What took place on The Real Housewives of New Jersey Review this week? Read our rundown to find out!
---