Gossip Girl Executive Producer Joshua Safran has a lot on his plate.
If last night's episode, "Beauty and the Feast" didn't make that obvious enough, think about all the stories he has to tie together this season. Recently, he sat down to reflect a little on all of it.
Excerpts from Safran's interview with The Hollywood Reporter below:
On whether B goes through with the pregnancy: All of those questions are going to definitely come up for her. She's going to have some interesting decisions to make.
On the season as a whole: This season is very much about choices, whether it's Dan's book or Serena's choice in career or Nate's connection with Diana. Everyone's choices affect everybody around them.
On Diana's interest in Gossip Girl: Diana Payne wants to become the new media baron in New York. In order to do that, you need to eliminate your competitors, whether they're the Post or Gossip Girl.
She very much decides that in order to get what she wants, she needs to eliminate Gossip Girl. Her agenda is very much to get where she wants to get. She's direct, which unsettles the other characters.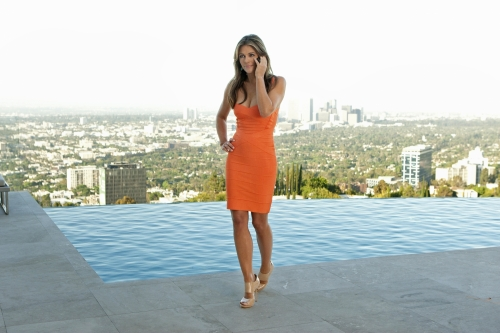 On other guest stars this season: Elizabeth Hurley is the only guest star because we wanted to make our characters fully enmeshed with each other. There are guest stars but they're more Blair's mother, Blair's stepfather, Nate's grandfather; it's really more family stories. Season 1 was very much about these kids trying to define themselves.

As you grow up, you're going to revisit those issues again.

On a dreamy scene: Our first dream sequence of the year is in episode seven and it's a really fun dream sequence. All I can tell you is it involves Blair, let's put it that way.

On what happened to the real Charlie: You will find out during [this season]. I don't want to say how, but you cannot pretend to be somebody that exists without the person knowing about it.

On the challenges of this season: There's still so many stories to tell. The challenges in the past might have been the beginning of college, because we didn't want to be the kind of show that put everybody in the same school and then you realize they do that for a reason because the characters can interact. That's maybe a mistake that we learned from.

On the 100th episode of the show: It's going to be good, that's all I can say. I can't comment on [whether people will be returning], but what I can say is if you haven't watched the show in a while, you can pop back in because it pays homage to every episode that came before it.

It will center around a major event, probably the biggest event that we've done.

On the end of the series: We all set goals for ourselves and those goals shift and change. Sure you can catch me up on Monday and I can say, "We all talked and we think it should be 'X,'" then by Wednesday, it's gone into a different direction. Some pieces we know and other pieces we hope for, but it could all change tomorrow.

Tags: Interviews, Spoilers, Gossip Girl