With strong delusions of adequacy, "Sins of the Father" offered us the conclusion to the three-episode story of Eric Sanders murder trial.
I so called it on Roseanna Remmick! Not that I should be happy because that means the show has gone into cookie-cutter and predictable mode. 
When she walked in and a defense witness was sitting alone in her office I knew we had taken our final step into the realm of her being insane. What District Attorney is going to interview a defense witness without defense counsel (or some other lawyer) being there? Oh, that's right, the one that wants to witness tamper (sigh).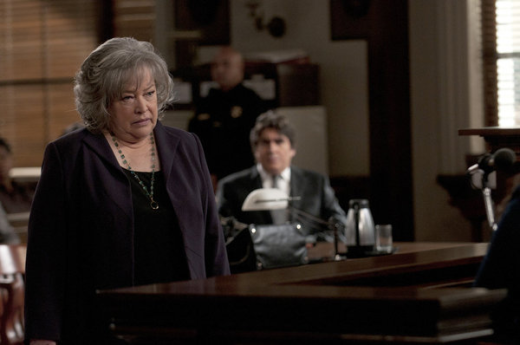 On the flipside of the coin from unrealistic, predictable, writing, we have the fine nuances that are needed to write a scene to appropriately use (and explain) gallows humor. As usual, Molina was brilliant, from telling the joke about the tigers to when he was having dinner with Harry in her office the night before he took the stand.

If you didn't catch Molina explaining it: gallows humor is a type of humor that still manages to be funny in the face of, and in response to, a hopeless situation. You know, much like my reviews of Harry's Law this season.

Honestly, given the changes, was anyone really surprised with how the trial ended? That after three full episodes dealing with the Eric Sanders case, it ended with a summary dismissal instead of Harry using her charms to convince the jury that Eric was innocent?

Watching Bethany walk out at the end of the episode cinched it for me. I miss witty Harry. I miss energetic Adam. I even miss arrogant Tommy and cute but annoying Jenna. Season One Harry would have never taken this long to figure out who was the real criminal.  

For the record, I don't need to see anymore scenery of Cincinnati, slow walks with music, or montages of trials in the court room. Come on, Mr. Kelly, I asked you to get off your soapbox about the legal system. Stop recycling old LA Law and Boston Legal ideas.

Given the ratings drop from last year and from the premiere to last week, I'm certainly not alone. I wonder how long NBC is going to ride along with these changes before it pulls the plug on the show.

That being said, because this was the last part of a three-part arc (that started with the new format), I'm trying my best to reserve any lasting judgments until after next week's episode to see how Harry and her team do with a new case.  

Here is hoping that next week brings us back a little of the show we all loved!

Jim G. is a TV Fanatic Staff Writer. Follow him on Twitter.

Tags: Harry's Law, Reviews