Hawaii Five-0 Review: A Fist for Fryer
by Jim Garner at .
Ma'ema'e: Clean
All our questions about Kono were answered this week as we finally learned if she was "Ma'ema'e" or had truly fallen from grace.
For all of us who weren't fans of the "Evil Kono" storyline, it was a pleasure to watch it conclude via a nice and tidy resolution, which included a well-earned punch in the mouth for Captain Fryer.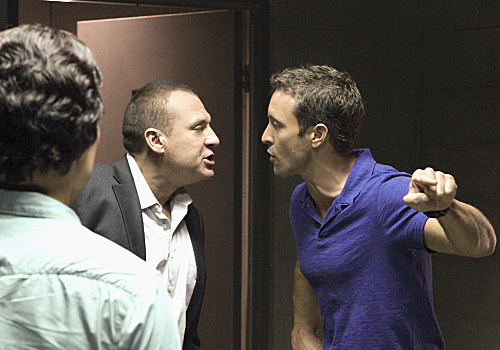 Additionally, as promised, I want to give a special nod to TV Fanatic reader Symph2001 who called that Kono was working undercover for Fryer. Well spotted, Symph2001!

From all the discussion in the last few episodes, I wasn't surprised when Fryer walked in to the interrogation room to get Kono. However, I was surprised that Steve hadn't bothered to check on Kono in weeks. Only Chin Ho had really been trying to reach out to her. Steve, it's a bit of the pot calling the kettle black when you play all high and mighty to Fryer and you had not even checked in on Kono once.

I'm also very happy that the Frank Delano story was ended with Kono's undercover event. I've made it no secret of how disappointed I've been in the amount of Haoles that have been cast in prominent recurring roles. Here's hoping that the next big bad guy is closer to Wo Fat than Delano.

Elsewhere, how cool was the slow-motion walk of the Five-0 team, now complete with Kono? Having five men for the Five-0 unit seems poetically correct doesn't it?

I know I'm in the minority as a Lori fan, but look at how quickly she's fitting in. You can't tell me you didn't enjoy Chin Ho teasing her about being like Steve. If you didn't think this was true, consider her shooting Dwight a minute later. Mind changed yet?

They have even started to show a little tarnished side of Lori, as we finally got to see something that she's not very good at: being patient.

I'm just hoping that fans can be a little better at it themselves and wait a little bit before screaming for her to be gone; I want to see how she and Kono work together. I suspect we might have the making for the Hawaiian Cagney and Lacy here.

Conversely, was anyone else a bit confused by the advertised visit of Tania Raymonde? It turned out to be incredibly underwhelming. She only had one scene. Given how CBS had released details over a month ago of her guest staring role, was I alone in expecting to see more of her?

Finally... SkyDrive? Really?!?

While I'm willing to accept that Lori could take a picture with her phone of a fingerprint with enough detail to make a comparison, there is no way a police department is going to use a publicly accessible file site for sensitive police files. Mr. Kurtzman, I'm willing to support product placement. I would just prefer it to not pull us out of the wonderful stories you have written.  

Jim G. is a TV Fanatic Staff Writer. Follow him on Twitter.

Tags: Hawaii Five-0, Reviews
From Around the Web