Mea Makamae: precious object, treasure.
On Hawaii Five-0 this week, the team must uncover what "Mea Makamae" a salvage diver was going after that got him killed.
The episode offered an impressive list of guest starts, most notably Patty Duke and Peter Fonda. The former was great in her portrayal of Sylvia Spencer, and although the latter didn't receive a great deal of screen time, he still made an impression as Jesse Billings.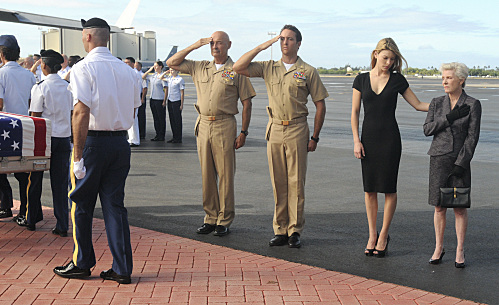 I did have one main problem with the Princesa treasure story. That being when Dr. Asano (Autumn Reeser) stated that the Princesa was a Spanish trade ship that had ducked into Hawaii to make repairs and sank there. I'm pretty sure a Spanish trade ship carrying thousands of gold pieces wouldn't have been anywhere in Pacific Ocean, much less close enough to Hawaii during a gun battle that it made a reasonable safe harbor.
As a Spanish trade ship in the 1700s, her range would have extended at most to the Caribbean islands, more likely just around the cape of Africa. I will freely admit that Spain sent many ships to the Americas, but those were ships rigged for long voyages not trade. 
That aside, I really enjoyed seeing Patty Duke in this episode as Blake's mother. Just as enjoyable was when we figured out that Blake was attempting to recover his grandfather's remains so his mother could have some closure. It was a really nice touch. Hawaii Five-0, you redeemed your earlier treasure ship flub. 
Actually, I wonder if the treasure portion was only put there as a way for Danny to meet Dr. Asano. If so, then it served its purpose. It's good to see Danny getting back on the dating horse. As much as I wanted him and Rachel to end up together, if she is going to be written out of the show, at least he won't be lonely. 
Speaking of being written out of the show, clearly Steve's calendar is being cleared as Lt. Catherine Rollins was sent on a new temporary assignment overseas. If we're lucky, this is a good sign that Michelle Borth will be returning to the role of Maj. Rebecca Gordon on Combat Hospital.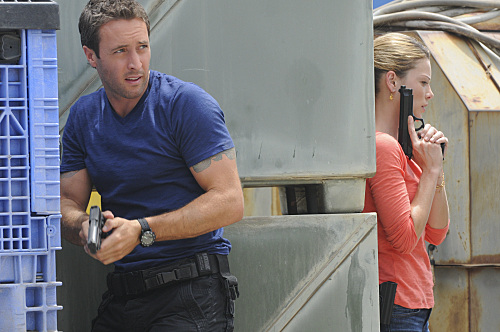 TV Fanatics and other fans have all expressed their belief that Lori was brought in as a love interest for Steve. This was the first week that I could see any indication there could be something to that. Consider his reply when Lori asked about Catherine: "That's an old friend."

In the continuing saga that is Kono's fall to the dark side, we got to see Frank Delano hanging out at her house and warning her to handle Chin-Ho. I discussed my feeling on Delano last week and his appearance here rivaled Fonda's for shortest and did nothing to change my mind. 

I was glad to see Chin-Ho come back at the end and remind Kono that he has been through the same thing. I'm sure I wasn't the only one talking to the TV and telling Chin-Ho he was being a jerk after she stood by him. Okay. Maybe I was.  

Finally, Joe continues to be the father figure to Steve and a calming influence. He tried hard to wrangle in Steve's one-track mind about digging into his father and Wo Fat.  Did Joe do the right thing by not sending the video as he said he would? Do you think Steve is better off not knowing what his father was doing?

Chime in now.

Jim G. is a TV Fanatic Staff Writer. Follow him on Twitter.

Tags: Reviews, Hawaii Five-0