It wasn't just the gang's table at MacLaren's that was overfilled, this week's How I Met Your Mother was completely packed with guest stars.  But were there too many that the return of James Stinson barely went noticed?
We answer this tough question and more in our latest round table.  So join as we discuss Loretta, Nora, and, of course, her hybrid, "Noretta."
Favorite HIMYM quote of the episode?
Chris: I really liked Barney's response to Nora saying she forgot her raincoat. "That makes one of us," was made that much better by him flashing the roll of condoms and then using his illusionist skills to make them magically disappear when Nora turned around. It was a subtle move but vintage Barney.
Leigh: Pork Authority is closed, looks like it's Hands Central Station for you buddy. Nobody can volley lines like the Stinson brothers.
Eric: "I've been waiting two months for that bowl of ice cream and tonight I'm gonna have sex with it."  Not even kids or CBS can censor the Barnacle.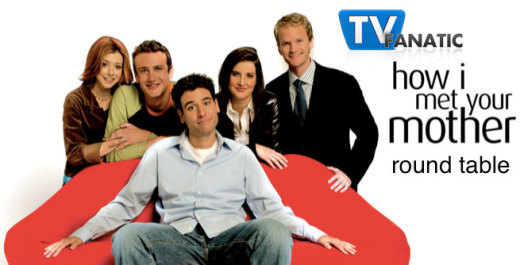 Clearly it wasn't a rat, missing tooth, or a jumper that stopped Barney on his way to Pork Authority. What would have stopped him?

Chris: Short of Nora refusing him a high five I'm not sure if there was much that could have prevented him from "turning it around." Actually come to think of it, had a spider landed on her head, that could have been a deal breaker. Barney is seriously afraid of those eight legged arthropods.

Leigh: There's not a single thing I can think of that would put a damper on Barney Stinson's libido. Scary, but true.

Eric: I'm pretty sure there's plenty of crazy things Nora could have done that would have dropped Nora below the Mendoza diagonal and stopped Barney's plan.  Like saying she has a healthy relationship with her father. 

James Stinson.  He set the parents montage in motion, but was his appearance wasted? 

Chris: I don't think Wayne Brady's appearance was wasted. I actually like how he was there but the writers didn't feel they had to center the story around him. He brings a great energy to the show, but sometimes guest stars are better used in small doses. Kal Penn's best moments have come when he is an accessory to conversations and scenes as opposed to the focal point or driver.

Leigh: James was so underused. I think he makes a great addition but this episode was stuffed with so many guest stars, he almost got lost in a shuffle. Double the Stinsons double the fun.

Eric: While it is impressive that they can just bring in a character for one scene and it to feel natural and fit in with the story, I'm still going with underused.  I need an update on his adopted son!

Creepiest/best parent the gang was dating? 

Chris: Chris Elliot was by far the creepiest of the parents to appear, while I thought the return of Marshall's dad dressed in Lily's robe was one of the funnier scenes of the season. It's always good to see the Dauber.

Leigh: I watched The Sound of Music so much as a child that I burnt out the tape. But if someone Barney's mom started singing "these are a few of my favorite things" to me I'd be majorly skeeved. Actually if anyone sang that to me I'd be majorly skeeved....

Eric: Guys, why choose between them when Chris Elliot and Bill Fagerbakke when they shared the creepiest/best scene together?

Clearly Marshall's Chutes and Lily game was a flop. What would be a good board game using one of the character's names like he did?

Chris: It doesn't incorporate his name but I'm sure Barney would always be up for a game of "Twist-her." Is that too cheesy, or "Barn-cheesi," Parcheesi?  Marshall could have adapted Days of Wonder's Ticket to Ride into Ticket to Ride Lily to help his cause last night.

Leigh: Ted-who instead of Taboo. Ted has to guess his exes but the group can't use certain words.

Eric: Please, like I'm creative enough for this.  I'm stealing Monopo-Lily from the Lilypad herself.  This is why I wanted Weird Al songs for the question damnit!

Eric Hochberger is the programmer of TV Fanatic, so please forgive his mediocre writing. His programming is far better. Follow him on Twitter and/or email him. Just don't request threaded comments. They're coming.

Tags: How I Met Your Mother, Round Tables