Having my email address plastered all over this website means receiving reader comments on all things TV. Fans of NCIS: Los Angeles likely won't be surprised to know that in the past few weeks, a disproportionate number of those emails have been related to Linda Hunt and Hetty's lingering absence from the series.
Well, after last night, I think it's safe to say she's back at the helm. All together now: Phew!
"Backstopped" marked the third straight episode with Claire Forlani's Agent Lauren Hunter at the helm, and the tension was more palpable than ever. Especially after she did the unthinkable.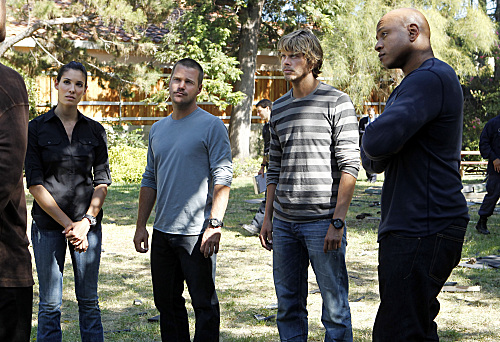 Not only did she pull the wool over her own team's eyes, she decided to partner Kensi with Callen and Sam with Deeks. Deeks. If Sam weren't a man of very few words, he surely would have plenty to say about this.
Kensi drawing a complete blank when asked by Callen to open up about herself, Deeks trying to stare down Sam and Callen offering him advice were just a few of the many priceless exchanges Tuesday night.
As with NCIS, the chemistry between characters is what makes the show work, so seeing these odd juxtapositions was a lot of fun, if only for a week. It also felt natural that Hunter would mess with them at this point.
Despite my inherent dislike for Hunter (and I don't think I'm alone in that department), I loved the comedic moments provided by the partner swaps, while the case itself proved more complex than initially thought.
Because they're professionals in the end, the agents were able to work through the awkwardness of issues such as knowing who the Alpha Male is (it's not you Deeks, sorry man) and solve this intense mystery.
A Marine being blown up in his car led to NCIS' discovery of a plot by a nightclub kingpin to blow up a rival club. The stakes seemed a bit low for such an elaborate attack, but we gained more insight on that later.
Sam went undercover to help "check" (in reality disarm) the bombs, and was his typical uber-cool self under pressure. Watching the agents do undercover work and remain unflappable is always fun on this show.
Of course, his cover was blown, along with everyone else's, when Kensi and Callen tried to evacuate the surrounding buildings. The club owner only ended up killing himself when he detonated the bombs, though.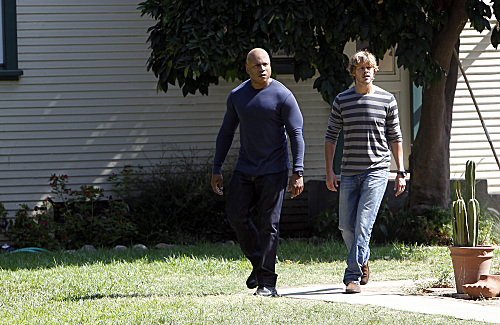 Not the brightest move, remote detonating C4 when you don't even have an escape route ... or planting C4 explosives in a club in general. Next time just set the place ablaze, as Sam said. Arson. Much simpler.

The unexpected twist came during the investigation when Hunter wanted the team to find the suspect's missing girlfriend, Ashley. Callen was suspicious immediately when that search was a complete dead end.

By the time they finally located Ashley, the case was over ... and Hunter was long gone. She manufactured this girlfriend as her cover for the next phase of her mission, as was explained by Hetty after the fact.

It looks like Hunter is in the wind for now, although she'll likely return at some point, given the obvious friction she provides in the OSP. She's a great adversary for Callen and there's much more to explore there.

I was not fan of Hunter at times, but at least this plot development provided some explanation for her deception. And most importantly, the diminutive woman in charge is officially back in her familiar position.

Upon her return, Hetty promised Callen she'd tell him everything. Will she really? And will viewers hear those conversations? We can only hope. "What's my mother's name?" he asked in the waning moments.

"Clara. Her name was Clara."

Hetty's voice closing out each episode as the score plays and credits roll is a great signature for a show that's coming into its own this fall. I can't wait to see her back sipping tea and calling the shots next Tuesday.

Welcome back, Linda Hunt. The show just wasn't the same without you.

What did you think of last night's NCIS: Los Angeles? Tell us below!

Steve Marsi is the Managing Editor of TV Fanatic. Follow him on Google+ or email him here.

Tags: NCIS: Los Angeles, Reviews