The Big Bang Theory Review: "The Russian Rocket Reaction"
by Carla Day at .
I would never have thought that Howard would end up being the most mature male on The Big Bang Theory. But on "The Russian Rocket Reaction," he showed that he really is ready to be in a relationship.
Like Howard, if I were ever offered an opportunity equivalent to going to space, I'd be so excited that I would accept it before talking to my significant other and family members also. It probably isn't the right thing to do, but I can see how it would happen, especially in Howard's situation. Not only hasn't he dated much, but he is newly engaged. A period of adjustment to joint decision-making is not unexpected.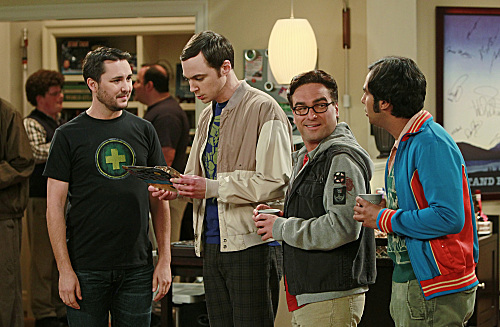 Howard showed his maturity in the car when he decided to discuss it with Bernadette. In the past, I think he would have just pouted and stood his ground. Surprisingly, it was Bernadette, normally the more grounded in the relationship, who acted inappropriately by not discussing the issue and then ratting him out to his mother.

While the show is a comedy, I enjoyed seeing a real life situation play out. And, hey, it was funny! So, will Howard actually end up going to space? I'm guessing no, and I have high hopes that the writers will come up with a hilarious situation to prevent his space adventure.

In contrast to the real life fight of Howard and Bernadette, we saw the contrived, but laugh-inducing fight between Sheldon and Leonard over Wil Wheaton. Should Leonard have gone to the party? I'm not sure. Sheldon has his oddities that create situations which allow for different actions than most normal friendships. In most cases, a friend shouldn't go to their best friend's enemy's party. However, Sheldon's grudge against Wil Wheaton was not normal. 

In the end, I'm not sure if I'm happy that the Sheldon-Wil rivalry is over or not. It was comedic gold for both of them. Perhaps Wil has turned his mortal enemy guest spots over to Brent Spiner, though. And maybe we'll see more of Wil Wheaton, just less of Evil Wil Wheaton.

Overall, it was a very funny episode and the two main stories were well-balanced and played off each other nicely. There were some laugh-out loud moments, no doubt, and you can enjoy them again with some of this week's The Big Bang Theory quotes. Read on!

Carla Day is a staff writer for TV Fanatic. Follow her on Twitter and on Google+.

Tags: The Big Bang Theory, Reviews
From Around the Web