I complained last week that The X Factor had done very little to differentiate itself from American Idol up until this point. Well, that changed with the first live show, as it showcased something Idol has yet to in 10 seasons: an utter and extensive lack of talent.
Sure, there were a few bright spots in the Top 17, most of which came out of the girls category, but it was quite obvious that while searching for the artist with the X Factor these judges forgot to also look for good singers.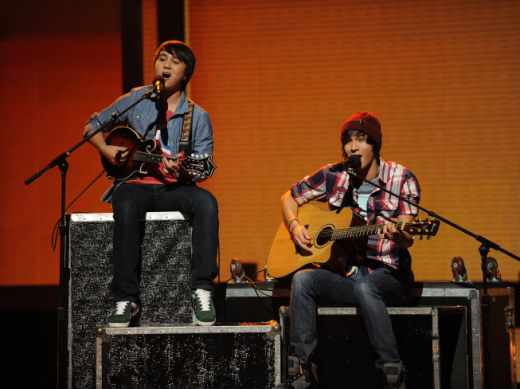 Before we move on to the individual performances, let me first recognize what the judges have decided to do for criticism of the contestants they didn't like. Because L.A., Paula and Nicole can't hate on these singers, they have chosen to just trash on whatever judge is mentoring that performer, and then say something nice to the contestant immediately afterwards. It's cowardly, it doesn't help the people on stage to hear such hypocritical analysis, and most importantly it takes up more of my time.
I'm going to try and make this quick because there were 17 acts! First up were L.A. Reid and the boys...
Astro "Jump" - The kid formerly known as Brian Bradley impressed the judges and the crowd with his revised version of Kris Kross's "Jump." His rapping was fast and seemingly good, but his stage presence was terrible, as exemplified by the moments he was yelling at the crowd that x factor will make them jump.
My Score: 5/10
Chris Rene "Love Don't Live Here Anymore" - I enjoyed Chris and his original song during his first audition, but this was a far cry from "Homey What You Trippin' On."  He mixes singing and rapping well enough, but he's not good enough at either to excel here.
My Score: 3/10
Phillip Lomax "I'm a Believer" - If anyone was before, they aren't believers of his after that.  This was a very America's Got Talent type of performance as he brought out a ton of ridiculous dancers and karaoke-d his way through this ridiculously played out song.  It was a terrible choice of song, which L.A. seemed to have trouble with all night.
My Score: 2/10
Marcus Canty "Do You Really Want To Hurt Me" - He definitely has the most marketable voice of the boys, and his first live performance was fine, but it had a very dime of dozen feel to it.  There have been a bunch of Marcus Cantys on American Idol over the years that don't make it past Hollywood Week.
My Score: 5/10
Astro, Marcus Canty, and finally Chris Rene made it through to the Top 12.  As expected after that performance, L.A. sent Phillip Lomax home.  For a judge who seemed to have promise, Mr. Reid seemed to really slip up with his song choices in the first live show.
Let us now move on to Paula and the groups...
The Stereo Hogzz "Try a Little Tenderness" - The thing about this performance was that it was just weird enough to be popular in today's music world.  The lead singer was as good if not better than any of the boys, but those guys that jumped in to rap were pretty terrible.  I did, however, love their enthusiasm after hearing positive comments.  Random dancing can go a long way with me.
My Score: 4/10
The Brewer Boys "Rich Girl/Faith" - Maybe I am biased because this is the type of music I enjoy most (the kid plays a mandolin for crying out loud), but I thought this was better than anything we had heard up to this point by a country mile.  The way they transitioned back and forth between the two songs was seamless, and they're the only ones to this point that showed to have any musicality.
My Score: 8/10
inTENsity "Footloose" - Of course the judges were going to love their Frankengroup, but come on, this was awful.  It was the thing everyone hates most about American Idol.  When all 10 finalists sing a "group song," they're all out of sync, they take turns singing solos, and everyone fast forwards through the performance.  This is not the next Glee people.
My Score: 2/10
Lakoda Rayne "Come On Eileen" - I enjoyed this, and the girls definitely have something going for them, but why did it sound like there were 15 voices singing that song?  If they're not good without all of those filler voices, that doesn't seem all that fair.
My Score: 5/10
The Stereo Hogzz, Lakoda Rayne, and finally inTENsity made it through to the Top 12.  This wasn't a surprise given the judges' comments, which were mostly negative on The Brewer Boys, especially from L.A.  This is a shame, because they are a couple of talented kids.
Against my better judgment, let's move on to Nicole Scherzinger and the old people...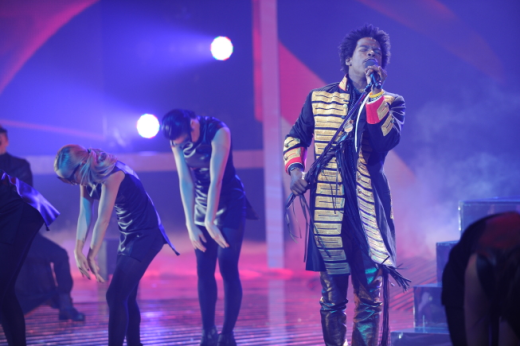 Dexter Haygood "I Kissed a Girl" - Does anything need to be said here?  This was just embarrassing for everyone involved, like we all knew it would be.  One question though, what were all those Matrix guys doing on stage?
My Score: 0/10

Leroy Bell "Nobody Knows" - Leroy pulls out a very decent to mediocre performance of a Pink song, and takes a gigantic lead in the category.  It was nice and pleasant. That's it.
My Score: 4/10

Stacy Francis "Teacher" - Maybe we are starting a trend with the older folk.  There was nothing from this performance that stood out.  Someone who certainly made a splash in her first audition didn't do the same this time around.
My Score: 3/10

Josh Krajcik "Forever Young?" Well three is a trend, and this was the third mediocre performance in a row.  Burrito Josh had one thing going for him (against him?) though.  He didn't really sing a song.  He basically just said "forever young" a bunch of different ways.  It was definitely not to the melody to the original song.  In fact, it didn't have a melody at all.
My Score: 4/10

Stacy Francis, Josh Krajcik, and finally Leroy Bell made it through to the Top 12.  Wooooooooooooooooo!  The nightmare that was Dexter Haygood on a talent competition is over.  I wish him the best in life, but he never deserved to be on this show.

And now, we finish off with Simon and his girls...

Simone Battle "Just Be Good To Me" - Simon and his projects.  This was awful and everyone knew it.  Simon obviously didn't admit it, and the rest of the judges hated on Simon while complimenting Simone on a job well done. Gutless.
My Score: 2/10

Rachel Crow "Baby/Where Did Our Love Go" Mixing Motown with Bieber was interesting.  I mean she definitely outdid Usher's little bro, but it's still a terrible song, which hurt her a bit here.  She still showed off her great, powerful voice, but I've seen her much, much better than this.
My Score: 6/10

Drew "What A Feeling" - I wouldn't have shortened the last name and gone with Drew Ryne.  The performance?  Beautiful.  In tone, structure, phrasing, it was fantastic.  I loved that she kept it slowed down throughout.  What a feeling indeed! BEST OF THE NIGHT!
My Score: 9/10

Tiah Tolliver "Sweet Dreams" - Like Nicole, I was a bit scared by this performance, but it definitely wasn't the worst of the night.  It wasn't even the worst in this category (cough, Simone, cough), but it still proved that Caitlin Koch should have been in this part of the competition.
My Score: 4/10

Melanie Amaro "I Have Nothing" - It was definitely one of the best out of this sorry group of 17, but it wasn't in my top three "I Have Nothing" performances in reality tv history (see Trenyce, LaKisha, and Kat McPhee).  She showed power and a lot of potential as we move forward, definitely worthy of Simon's fake save.
My Score: 7/10

Drew, Rachel Crow, and finally Melanie Amaro made it through to the Top 12. Unsurprisingly Simon's favorites, Simone Battle and Tiah Tolliver were eliminated.

I would like to say more but I'm afraid Steve Jones will cut me off. Until next week, let us know who your favorite of the night was in the comments. And don't forget to tell me my scores are all completely wrong!

Dan Forcella is a TV Fanatic Staff Writer. Follow him on Twitter.

Tags: The X Factor, Reviews