America's Next Top Model Review: Pot Ledom... Ledom...
by Kate Moon at .
Pot Ledom... ledom... ledom... does anyone else have that stuck in their heads? Darn you, Tyra!
The focus of this week's "Game" was to focus on viral music videos. To help their brands go viral, Tyra recruited Youtube sensations Madison and Keenan Cahill. It was definitely a cool challenge and a nice distraction from the photoshoots, but the girls seem to have forgotten that you can't just "go viral" voluntarily. Nevertheless, the models tackled their lyric writing with gusto.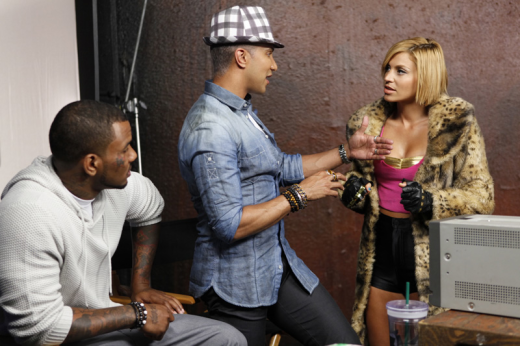 Lisa predictably won the challenge because she has a music background and loves to perform. Say what you will about Lisa, but she's a wild card and never backs down. Allison had a mini-freakout since she's an "introvert" but she pulled out a haunting song that everyone fell in love with.

Tyra, of course, came up with the strangest twist: incorporate Pot Ledom into the lyrics. Pot Ledom is Top Model spelled backwords... backwords... backwords...

The music video shoot was really fun to watch. The girls all did surprisingly well. Considering how many models usually freeze during the obligatory CoverGirl commercials, it was a pleasant shock to see all of the pull through.

Alexandria was critiqued for her robotic movements but I thought she really did the best she could. Not everyone can be a "Jeyonce" like Dominique. I especially loved Laura's poppy Katy Perry-esque music video. 

Everyone ADORED Allison's music video with her haunting lyrics and eyes. I love Allison myself, but the love-fest is a bit puzzling. She's a great model but she doesn't seem like a songstress that Game would love, does she? 

But Game was gushing about her during the music video shoot and at panel, where he fully admitted that he was attracted to her. Unfortunately, he revealed this juicy tidbit behind the panel. It would have been so fun to see Allison's reaction!

As a result, Allison got first-callout instead of Lisa, who was definitely disappointed. And Alexandria was sent home for her lackluster performance. 

What did you think about this week's musical episode? Did you love Pot Ledom? Think the judging was unfair?

Tags: America's Next Top Model, Reviews
From Around the Web