Forget dragon tattoos. Body of Proof gave us a girl with a wicked dragonfly tattoo this week. Unfortunately, no matter what her body art, she still ended up on a slab in the morgue.
The medical students in "Gross Anatomy" were only slightly less annoying than their obnoxious professor here. I hated the fact that he had bedded Kate back in the day. She was certainly young and blind but I'm certain she's always been worth more than this arrogant jerk.
Why does Kate have such poor taste in men? I wish they'd either give her a decent love interest or just let her stay single.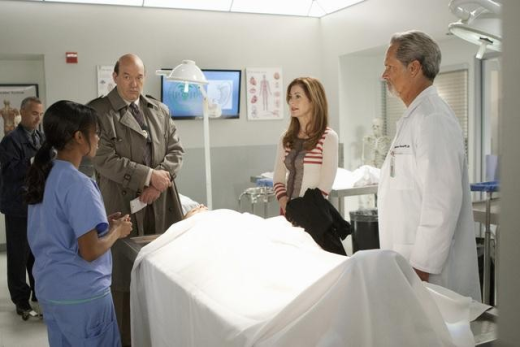 It looked like one piece of Peter's anatomy overrode the other. To think, I was so proud of him when he stopped Dani's advances. I don't have anything against Dani. She's the sexy little devil in disguise and as much fun as Peter's bound to have, he'll have more trouble than he can handle. The worst thing about a work place romance is that once it crashes and burns, there's no where to run.

The murder investigation was pretty good this week. It was a nice mix of old fashioned detective work with the help of forensic evidence. They certainly kept me guessing about the baby. I wouldn't have thought Mitch would keep the child alive but I suppose his only end game was to get his payday. So he broke in to steal the infant and then beat the mother to death with a baseball bat when she fought back. I don't see a jury having much sympathy when he says he was desperate to pay his overbearing little brother's med school bills.

Catching the murderer gave us two great moments. The first being Sam's take down of Mitch when he ran. That was a heck of a flying tackle. The second was Bud getting to find the baby. I know they're kind of hitting us over the head with the fact that Bud's going to make a great dad, but he was very cute holding that tyke.

Why do most storylines concerning character's kids make me want to groan? Lacy's plot tonight was no exception. There was nothing particularly wrong with it, I simply didn't find it all that entertaining. Although I thought it was cute when Megan put her hand over the camera to talk to Lacy and she pointed out that all of her friends could still hear them.

So as we wait for next week's Body of Proof, how much trouble do you think Peter's going to have with Dani?

C. Orlando is a TV Fanatic Staff Writer. Follow her on Twitter.

Tags: Body of Proof, Reviews