I have a feeling "Chuck Versus the Frosted Tips" is going to be very divisive. There were so many things to enjoy, yet so many issues with the episode that even I both loved it and hated it all at the same time. Divisive, I say.
Before the conclusion, where it surprisingly became clear that Morgan was going to return to normal, I had many a worry for fans of the Bearded Bandit. Personally, I found his new egomaniacal state to be hilarious, but I could definitely hear the roars of fanboys complaining that this wasn't the Morgan we learned to love back in the beginning.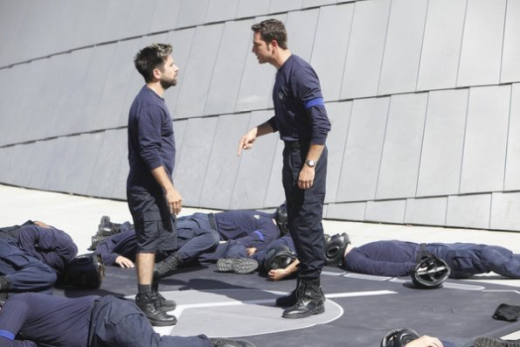 My problem wasn't with his transition to the Luke Skywalker-forgetting, personal assistant-needing, dumping-by-text-message Morgan we watched for most of the episode, but rather, the ease in which he turned off the cocky switch.
I loved that Chuck was able to talk Morgan down from his king of the world persona, and regain his best friend, but that's it? That's all it took for Morgan to stop acting like this, a chat with Chuck that got him to remember his past? I really thought this was a bigger issue. In the final five minutes or so he was acting completely normal, and I was assuming it would take removing the intersect from his brain to get any of the old Morgan back in our lives. It was just a bit too easy.
On a related note, I may have missed something along the way, but why was Sarah so surprised that the intersect was acting differently in Morgan's brain than when it was in Chuck's? Didn't we learn that last season when everybody and their brother were trying the intersect on for size?
My final complaint is a big one. Everybody watching the first three episodes knew there was something different going on with Morgan. After last week's "Who's Luke Skywalker?" we all assumed his brain was being affected. The majority of "Frosted Tips" was the cherry on top for our conjectures to be true.
There was absolutely no reason to give us the old "Maybe our viewers are so dumb that they need flashbacks to notice all of the times that Morgan was acting differently" treatment. The Chuck audience, in general, is a smart audience, and smacking us over the head with a move like this is a pretty big insult to our intelligence.
Like I noted at the top, there was also a ton to love about "Frosted Tips," and how better to illustrate that than with what Chuck does best: The Chuck Triple Threat:
Comedy
Let's begin with more from the Bearded Bandit and his overall smug nature; Between referring to Beckman as Becky, requiring a personal assistant, showcasing the titular hairdo as he rolled into the Buy More on that moto-ride, the DMPD'd text, hating on the assistant for not putting almond milk in his latte, and "Look at this sorry bunch," Morgan was on fire this week.
Other highlights:
Casey's original awkward encounter with Verbanski.
Chuck pantsing Morgan to take him out.
Jeff acting normal now that he's not constantly breathing in fumes.
Action
There was a lot of action this week, highlighted by Morgan's take-down of every student in the blue group at Verbanski. They did a much better job of letting Josh Gomez be in the shot by slowing everything down. Morgan was also able to give us the first Matrix reference of the season. That's something I've been waiting for every since Carrie-Anne Moss showed up.

It was also great seeing the Casey/Verbanski sexy fight. It was oh so difficult to tell if they were trying to get it on or take each other out, and thankfully our man Casey won in the end.

Heart
Everything that happened; the plan, the execution, and the conclusion, all had to do with Chuck trying to save his best friend. First, from being a traitor and then from the intersect. We all love Chuck, and it was nice to see him get his friend back after talking him into remembering how they got back at the queen of the eighth grade.

Moving Forward
So now there is a kill order out for Morgan Grimes. Why did you have to blab about the intersect with anyone with a pulse! These first three episodes had a mini arc dealing with Morgan's ego and the intersect. I hope the next three episodes are also lumped together like this as the team tries to save Morgan from being killed. A final season filled with four mini arcs could end up being very enjoyable.

Like I said earlier, there was a lot of good and a lot of bad in "Chuck vs. the Frosted Tips." What did you all think? And are you ready to move on with the old Morgan back in our lives?

Dan Forcella is a TV Fanatic Staff Writer. Follow him on Twitter.

Tags: Chuck, Reviews