Fans seem divided in our comments on whether Morgan's Intersect is taking the final Chuck season in the right direction, so it's no mystery why even our round table seems divided.
So come gather round as show reviewer Dan Forcella joins Dr. Toboggan, Kris H., and Eric Hochberger in further dissection of "Chuck vs. the Bearded Bandit."  We hit up everything from the plethora of guest stars to Morgan's new attitude this week.
1. Favorite Chuck quote or scene from the episode?
Dan F: Big Mike: So listen Devon. Have you ever given any thought to do something that involves less doctoring and more making a commercial for the Buy More?
Dr. T: Awesome: Sure I did some modeling for Abercrombie and Fitch back in college, but I hung up those cargo pants a long time ago.
Kris. H: The scene where Carrie Ann was trying to recruit her and Sarah, looking lovely and tough as nails, was giving her her best fu*k off look. I also liked the jogging scene with Chuck and Sarah. Such an effortless couples scene, with lots of chemistry. So different from their constant miscommunication and bickering last season.
Eric H: Less of a quote and more of the entire scene with Casey trying to work up the courage to ask Verbanski out on a date.  I love nothing more than finding the one that strikes fear into John Casey.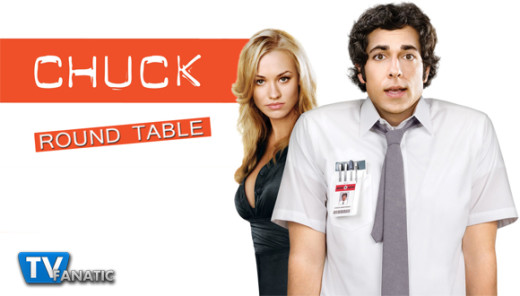 2. Favorite guest star: Jeff Fahey, Carrie Anne-Moss or Justin Hartley?

Dr. T: I wasn't sure who any of them were other than the guy from Lost so I'll go with him.  Spending my days with various doctorings I dont have as much time to keep up on pop culture.

Dan F: I love me some Chesty, so I'll have to go with Jeff Fahey.  He didn't do anything crazy but the former Lost pilot played a good evil millionaire.

Eric H: Wow guys, no Trinity love?  I've had a huge crush on her since her Matrix days and am impressed she still looks so good.  Can't wait to see more of her and Casey.  More on that in a moment..

Kris. H: Carrie! I've liked her since waaay back. I can't quite believe Justin doesn't know her from The Matrix. Come on!

3. Better face of the Buy More: Big Mike or Awesome?

Dan F: The thing about that is that times change.  I'm sure Big Mike was an awesome face for the Buy More back in the day.  The ladies were probably rolling in by the dozens to that man's afro, but in 2011 it has to be Captain Awesome.  He never should have hung up those cargo pants. 

Dr. T: Big Mike.  I am a big fan of Awesome and liked his commercial but I was really hoping Big Mike would just recreate his commercial in some epic train wreck.  Especially if they kept all the beta max/VCR dialogue in there.

Eric H: I don't care how pretty Awesome may be.  The man's face may have unusually high cheek bones, but it does not say Buy More.  But like Dan said, times they are a changing.  Big Mike can't pull in the customers. So I'm going with a third, hidden option: Jeffster!  I don't care how bad their auditions were.  The problem is you tried to separate them.

Kris. H: Awesome. You know, on account of his face. Congratulations on your face, by the way, Ryan McPartlin.

4. The Intersect affecting Morgan's brain: fan?

Dan F: I don't hate it, but we have seen this before, so I guess I'm not too thrilled with it.  If it's a big theme to this final season I will probably end up disappointed, but I did enjoy him acting like a complete jerk.  Unlike most the people commenting on my review, I thought the complaining arrogant Morgan was funny.

Dr. T: I really didn't like it.  I wasn't sold on this story line after last weeks episode and this weeks certainly did not do it for me.  I had to force myself to watch the entire thing where in the past I would hang on to every scene waiting to see what happens.  I'll keep watching but right now every single aspect of the show seems forced.

Eric H: I'll answer your question with a question: who's Luke Skywalker?  I think it's great and just the direction this arc needed.

Kris H: I hope this arc is over soon. Nobody cares.

5. Did Casey finally meet his match in Verbanski?

Dan F: Never!  Casey will take her down and make her his! 

Dr. T: No not a chance.  This is John Casey an American loving Reaganite, hell best her when he feels the time is right.

Eric H: I don't know guys.   She's bested him before, she can hold the sex over him, and she's a Reagan fan.  That's kind of a deadly trio to our man John.

Kris H: Maybe in bed. Wait, did I just say that out loud?

Eric Hochberger is the programmer of TV Fanatic, so please forgive his mediocre writing. His programming is far better. Follow him on Twitter and/or email him. Just don't request threaded comments. They're coming.

Tags: Chuck, Round Tables