Covert Affairs Exclusive: Christopher Gorham on Location, Auggie's New Love Interest
by Matt Richenthal at .
Covert Affairs is headed overseas once again.
The USA hit - which has already filmed installment in Sri Lanka, Puerto Rico and Paris - took off for Berlin recently in order to capture the necessary elements for tomorrow night's "Uberlin," an episode based around Arthur's past as a CIA operative in that region.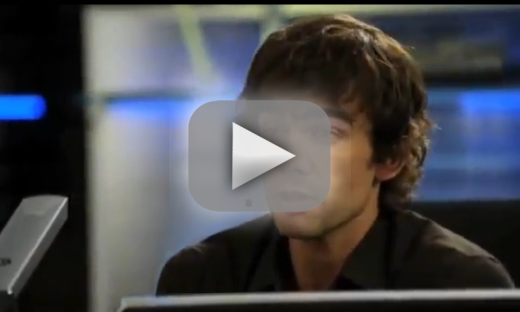 "We go deeply into Arthur's backstory," Christopher Gorham told me of what's to come and why it was so important to film on location in this case: "He was stationed there before the Wall came down and now so much has changed in his life and in that city, it was something that couldn't be replicated on a set in Toronto."

Look for Annie to get caught in the middle of the story, as she seeks to turn a target's wife into a CIA asset, until this woman demands a meeting with Arthur, someone she knew well many years ago.

Among the extraordinary locales the cast got to visit, Gorham cites a former NSA listening station, which was used as an epicenter during the Cold War and is now run down, marred by graffiti.

"So much about this episode is based on remembering the past," the actor says. "It's symbolic that this important piece of Arthur's history is gone."

The challenges the crew faced while shooting, however, were based on the present; specifically, how popular Peter Gallagher is in Germany. Gorham said women were chasing his co-star through the streets during filming.

"Berlin loves The OC," Gorham laughed.

Of course, not every aspect of the episode is based around Arthur. Auggie meets a woman... thanks to Annie no less.

"The family of Billy, one of the men who fought with Auggie and died in combat, is throwing a memorial and Auggie is hesitant to attend. But Annie convinces him to go," Gorham previews. "He meets Billy's sister [played by Devin Kelley] there and a real connection forms between the two."

Kelley is signed for three episodes, which will take Covert Affairs close to its fall finale. Can Gorham offer up any teases about how this season will conclude?

"He doesn't exactly tell Annie about the relationship," the actor says. "It will come out in an interesting way."

Matt Richenthal is the Editor in Chief of TV Fanatic. Follow him on Twitter and on Google+.

Tags: Exclusives, Covert Affairs, Christopher Gorham, Interviews
From Around the Web