What a tease, huh?
Granted, I didn't buy the premise that brought Brian Moser back into the mind of Dexter Morgan last week. I didn't see the latter's murder of Nick as anything different from the code by which Dexter had been abiding for years: kill the definitively guilty who have gotten away with their crimes.
But I did my best to overlook that throughout "Nebraska" and I was very much on board with the intriguing concept of Dexter fully embracing his Dark Passenger after he killed that motel-running pot grower*. Think of the rich possibilities that would exist if Dexter truly shut off his light for a bit.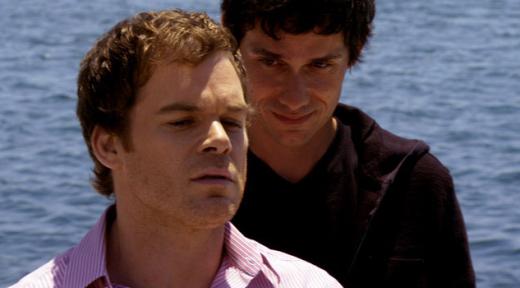 (*And let's not even talk about the plot contrivance of that gun. Why did Dexter steal it? Just so he could go on that weird, out of control joy ride? He's killed countless individuals without a gun and suddenly decided now that he needed one?!?)

Alas, the show has never been able to go there. It might tease the storyline occasionally, but Dexter always returns to that happy medium of someone with an urge to kill... who also wants to live a regular, worthwhile existence.

So that's where we ended up this week, following an episode that felt full of potential - only to conclude with the same old, same old. It was really nothing more than filler, an hour spent revisiting the past that came across as more desperate than nostalgic.

Didn't seeing Brian and being reminded of Trinity just drive home how inane the DDK case has been this season? How much Gellar and Travis simply cannot compare to past villains? They talk about God a lot, Travis is always unsure about their mission, and that's pretty much it. There's been no real progress at all here, although Dexter did do a solid job of showing how and why Deb is anxious to close the investigation.

I don't say all this to complain, I say it to make a point: stop making this season an internal struggle over who Dexter Morgan is and what he believes. It's rather clear at this point that he's a killer with a conscience, a disturbed individual with a Code. And he actually balances it all very well, all things considered. If Rita's murder was not going to send him over the edge, ignoring Sam's advice to forgive and forget certainly won't do it either. Let the man live his life and give us some action instead.

Can we please do away with these questions now? Can we up the suspense ante? Deliver a sense of urgency? A cliffhanger that leaves us wondering what will happen next and leaves character scrambling for their lives? We've seen none of that this season. I've been a fan of Dexter since day one, but the contemplative, angst-ridden act has grown old.

There's a seriously effed up serial killer out there, dude. Isn't that your thing? Get in there!

Matt Richenthal is the Editor in Chief of TV Fanatic. Follow him on Twitter and on Google+.

Tags: Dexter, Reviews
Want more Dexter?
Sign up for our daily newsletter and receive the latest tv news delivered to your inbox for free!
More From TV Fanatic
On tonight's The Bridge, the search for Eleanor continues. Will she kill again before she's found?
On Extant, Molly reveals her pregnancy to John but Sparks' story isn't exactly a plausible explanation.
Mike, Briggs and the team pull out all the stops to get Paige back. Read our Graceland review of "The Unlucky One" now to find out if they were successful.
Rachel & Jessica's life choices seep their way into the business of the men in their lives, some of which only cause more problems. Read out Suits review of "Litt the Hell Up" now to see what went down.
---