Poor George Tucker. No matter what you tell Lemon while recovering from a crossbow injury and, heck, no matter what you tell yourself, "The Crush and the Crossbow" made one thing clear: you are not just fine.
Far from it, in fact, as the best Hart of Dixie episode of the season gave Team George members plenty of reason to cheer. It also opened Zoe up a bit. Everyone loves Rachel Bilson's doctor, but she's mostly served as a source for New York snark over the last few weeks.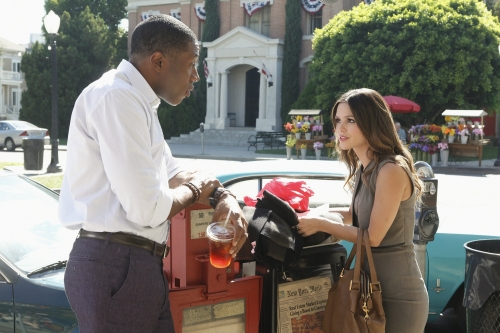 Here, inspired by the notion that her life is on pause, Zoe leaped out of her shell and gave us a glimpse into the vulnerable woman that her ex of six years scarcely ever saw. Like Addie's take on conversation during an ideal first date, this hour simply flowed. Among the highlights:

Zoe's flashcards. Why are you on death row? Can doctors wear shorts? Team Jacob or Team Edward? Great stuff, but also confusing stuff. I've never understood the argument for Edward. Jacob has more of a personality and much better abs.

The use of town folk. It's a theme I've been championing for awhile, and here we were treated to lines from the mailman, Addie's sheriff husband and those lovely ladies on the bench. Well done, Hart of Dixie. Keep throwing in these cameos and Bluebell will really come to life.

A turtle race. Forget UFC, Fox. This is what you clearly should be putting on primetime. Who didn't love Lavon getting into his play-by-play role, at one point giving a competitor props for flipping back on to his feet and "playing through pain." Yes, I'm a sports nut who can never get enough of sports terms being used outside the typical sports realm. Sue me.

Shelly Long. That was the name of one of the turtles. Amazing.

Lavon and Lemon as co-hosts. I still don't buy these two were ever a couple. Viewers are simply being asked to accept their history, despite a lack of chemistry and a major lack of similarities between characters. Still, it was nice to see Lavon and Lemon having fun here. Every previous scene between them had been awkward and angst-filled. If Lemon really was a fun rule-breaker, as Lavon hinted at, and maybe something happened to set her back on the straight, southern path, that would be a story I'd be interested in learning.

Goe for it! Okay, their potential couple nickname needs work. (Zorge, perhaps?) But George took a major step this week in making up the substantial lead Wade holds over him in our poll. He and Zoe have a love for New York in common, along with whatever indescribable personality traits allow two people to simply feel comfortable with each other. I wish I could explain it better than that, but you all know what I mean, right? When it's right and you're open and honest, it can't always be explained with something as simple as a shared affection for Woody Allen. Although George and Zoe have that, too.

Hart of Dixie clearly must drag out this triangle for as long as possible, because that's what TV shows do, but no one can actually argue for Lemon at this point. George is simply happier when he's around Zoe, that much is clear.

On a sidenote, can Scott Porter get injured every episode? The guy is hilarious when in pain. And we can also assume Wade's comment about once blocking for his high school teammate was a nod to Jason Street, right? I miss 7.

The only downside of this episode? The name Judson. Or perhaps just the way Zoe pronounced it. I kept thinking she was saying Jetson and I kept waiting for a robot maid to appear. But that's a rather small complaint overall. This was a really fun, character-revealing installment. What did everyone else think?

Matt Richenthal is the Editor in Chief of TV Fanatic. Follow him on Twitter and on Google+.

Tags: Hart of Dixie, Reviews
Want more Hart of Dixie?
Sign up for our daily newsletter and receive the latest tv news delivered to your inbox for free!
More From TV Fanatic
On tonight's The Bridge, the search for Eleanor continues. Will she kill again before she's found?
On Extant, Molly reveals her pregnancy to John. However, Sparks' story isn't exactly a plausible explanation.
On Graceland, Mike, Briggs and the team pull out all the stops to get Paige back. Read our review of "The Unlucky One" to find out if they were successful.
On Suits, Rachel and Jessica's life choices seep their way into the business of the men in their lives, some of which only cause more problems. Read out review of "Litt the Hell Up."
---