How I Met Your Mother Review: The Perfect Storm
by Chris O'Hara at .
On "Disaster Averted," the gang survived Hurricane Irene, but the two new relationships on the show may soon be headed for troubled waters after Barney and Robin shared a kiss in the back of a cab.
What a difference a week makes! How I Met Your Mother, coming off a disappointing Halloween episode, absolutely nailed it here.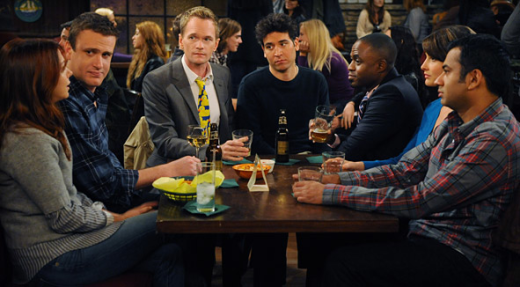 Barney was epic as ever, what with the Men's Warehouse reference, calling Ted a giant whining bummer and the way he managed to remain hilarious even while taking slaps from Marshall - but said slapper was hands down the star of this week's episode. (A little slap pun for you there.)

Whether it was quoting Edgar Allen Poe,  fighting off bears or bargaining with Barney, Jason Segal showed us once again the full range of his comedic talents. Lily shined, as well, both in touching moments (such as when Marshall had drawn her a surprise bubble bath at Barney's) and later when she and Marshall's faces changed in unison from understanding to unfeeling as they told Barney it would cost him three new slaps to be rid of the Ducky Tie. Marshall was so focussed on Barney's cheek in that last scene, had a bear shown up at that point I have a feeling it would have heard something like "yo whaddup bear I ain't scared" and Marshall would have had himself a new fur coat for the winter. 

This week also featured what had to be Kal Penn's best scene yet as he "therapisted" Barney and revealed the pressing engagement with Nora's parents as the reason he so desperately wanted to get rid of the tie.

I loved the Indiana Jones intro, and thought for a second that Barney was really going to get away with such a ridiculous story only to have Lily put his ruse on blast. For now, though, the tie is gone, but we have to see it at least one more time in Atlantic City, right?

Like Barney, my face hurts, but from smiling for the last thirty minutes. All things considered, I give Barney credit for taking the slaps as well as he did. I think I would have peed in my pants a little if I had to stare into Marshall's eyes when they looked like that. Two slaps remain and Thanksgiving is right around the corner. Talk about "things that make you go hmmmm." 

I hope you were as happy as I was to see Barbin Roney share a kiss and enjoyed weathering the storm as much as I did. What does it mean, however, for Kevin and Nora's futures on the show? Let us know what you think and don't forget to vote on your favorite quote of the week as well. 

Tags: How I Met Your Mother, Reviews
From Around the Web