Parks and Recreation Review: Mick Jagger Owns a Gas Station?
by Nick McHatton at .
The ball of awesomeness stalled a bit during "End of the World."
If it wasn't for April and Andy being young and irresponsible, along with the repercussions of Leslie finally acknowledging what she lost with Ben, I might have actually turned off my TV. All spineless threats aside, the episode did sound great on paper, but tonally something felt off.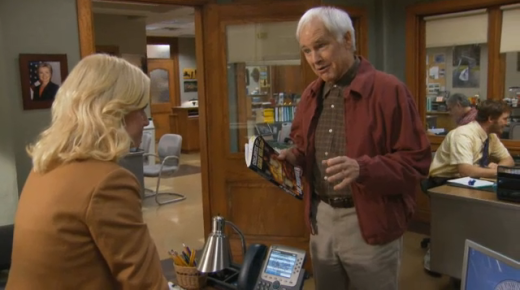 The best explanation I can come up with is "World" was set up as a transitional episode, storyline wise: Leslie's crazy-pants, jealous reaction helped her deal emotionally with her breakup with Ben (and perhaps begin mending it), and now that Tom has lost E720 he can work his way back to the Parks Department.

So it would make sense that things felt off, considering a shift in overall narrative.

Should it have really taken Leslie this long to realize what type of feelings she had for Ben? Maybe not, but I did enjoy stumbling, bumbling, crazy ex-girlfriend Leslie, with her aimless car drive with Ben to Mick Jagger's Gas Station, and it was nice to finally see the two of them together again after being apart since the premiere. The chemistry and comedy brought out by this pair is a lot of fun.

As for Tom, I'm pleased that he's finally done with the E720 ball and chain. A Tom detached from the Parks Department only produces his more annoying traits because there's no one there to ground him or call him out on his ridiculousness. At least now when Tom does something Tom-like we'll enjoy a glance from April or Donna.

April and Andy, by far, were the stars this week. As they should be because it had been far too long since their wedding to do something only young, irresponsible people do! Andy's bucket list was typical Andy, complete with a good remake of Kazaam. While he's at it, maybe he can remake Shaq-fu? Seriously, that game is terrible and could use the Andy touch.

It's funny that no matter how many times Andy and April are dismissed or made fun of for their marriage, they end up having many poignant, heart string-tugging moments - and the scene at the end in the Grand Canyon was no different. There's nothing better than experiencing something that humbling and amazing with the person you love. Heck, even sarcasm-laced April couldn't find anything wrong with it.

All in all, while not the funniest episode Parks has done this season, "End of the World" still had plenty of fun. Be sure to visit our quotes page for some of our favorite lines!

Nick McHatton is a TV Fanatic Staff Writer. Follow him on Twitter.

Tags: Parks and Recreation, Reviews
From Around the Web